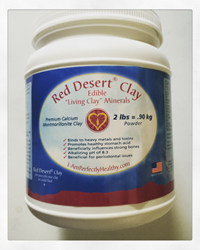 (PRWEB) September 30, 2016
It's time to put your best face forward on National Mud Pack Day on September 30, and there's no better way to do it than with Red Desert® Clay. Unlike common bentonite clays, Red Desert has more "pulling power" for detoxification than any other clay product because it is mined where the conditions exceed 100 degrees. When used as a facial mud pack, toxins are removed through the skin, resulting in tighter pores and a smooth and healthy glow. Health and wellness expert Maryanne Maldonado, an avid user and proponent of Red Desert Clay, said its versatility makes it the perfect addition for daily health and beauty routines.
"Red Desert Clay is excellent for facial masks because it powerfully brings blood to the skin surface and nourishes the skin," said Maldonado, owner of the wellness site I-AmPerfectlyHealthy.com. She added that when choosing any clay product for facial masks or other health benefits, consumers can use these tips to be sure they are getting the best clay for their needs:

Look for clays that are beneficial for internal and external uses
Choose clays with high naturally occurring silica to move calcium into bones
Ask about clays that are gentle enough to apply to the face or consume in small amounts on a daily basis
Have the smallest particle sizes and highest electrical charge
While the use of clay masks for beauty purposes dates back to the days of Cleopatra, a recent study of montmorillonite clay at Arizona State University also revealed multiple therapeutic benefits, including effective treatments of removing numerous bacterias. The study revealed that Red Desert® Clay is unlike many others because it can be taken in tablet or powder form and moves straight to the cells and tissues of the body, binding to unfriendly bacteria, chemicals, carcinogens, mercury, radiation and other harmful toxins."
Unique because it can be used both internally and externally for detoxification and re-mineralizing cells, Red Desert Clay is ideal for National Mud Pack Day because it helps increase circulation, relieve muscle tension and boost immunity. Both men and women have reported a noticeable improvement in tissue vitality and improved skin tone from mixing the clay with water and applying it to the face and neck. Others prefer to consume a couple of teaspoons of the edible clay each day or take it in tablet form for optimal health benefits, including assistance with moving calcium to the bones due to the clay's naturally occurring 55% silica content.
"Whether it's used for skincare, anti-aging, or detoxification for people or pets, Red Desert Clay has many uses and benefits," said Maldonado. "I've been using it for 12 years and recommending it to my clients as one of the best things they can do to improve their health. However, clay can bind to some medications, so check with your physician to see if there are contradictions."
For more information or to purchase Red Desert Clay, go to I-AmPerfectlyHealthy store.