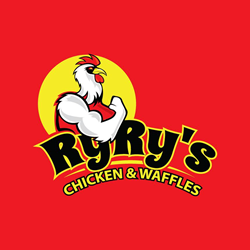 We are going to make chicken great again.
Tampa, FL (PRWEB) October 04, 2016
Innovative restaurateur Ryan Gougeon announces the December 1st opening of his new restaurant concept, RyRy's Chicken & Waffles, in the Ybor City District of Tampa. The new restaurant will feature fresh-made fried chicken and fresh-pressed waffles, served with options like fresh fruit, bacon, and pecans.
Owner of the award-winning James Joyce Irish Pub & Eatery in Ybor City, Gougeon is excited about opening RyRy's Chicken & Waffles. He knows the menu will be a huge success, since he's already tested the chicken and waffles concept at James Joyce. He explains, "Tweaking the recipes and letting our regulars be the taste testers was a great idea."
Gougeon decided to put a chicken and waffles combo on the Irish pub's menu, and would often pose as a customer at a nearby table so he could get honest reactions from customers. "Often times, they would take pictures and upload it to Facebook, and tag us. I'd then follow up and see what they said. People were raving about this new combination—and when I heard them bragging about how good it was to the people around them, that's when I knew we had a huge hit on our hands," says Gougeon.
RyRy's Chicken & Waffles will be open seven days a week, and Gougeon plans to be open 24 hours on the weekends. The restaurant will also serve jumbo chicken wings with sauce names like: Get up offa that thang hot curry, Sriracha Funky Buddha, and Ass O' Fire ghost pepper wings.
Though RyRy's Chicken & Waffles opens just one location on December 1st in Ybor City, Gougeon has big plans for a concept he believes lends itself to expansion. "The best part about this concept is that tracking inventory is amazingly easy, and the food is hard to mess up, from a production standpoint. As far as comfort food or the late night bar crowd goes, this concept is going to be hard to beat," says Gougeon.
Gougeon plans to roll out five stores in just 36 months in the Greater Tampa Bay area and even has his eye on franchising, as well as on a food truck that serves up RyRy's Chicken & Waffles. "We are going to make chicken great again," quips Gougeon.
RyRy's Chicken & Waffles opens December 1st in Ybor City, a historic district in Tampa. Learn more at http://www.MuthaCluckaz.com
Contact:
Ryan Gougeon
Phone: 813-362-6388
Email: csmedia33(at)gmail(dot)com