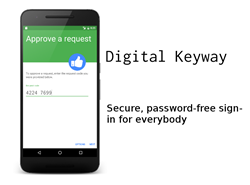 "Passwords have failed. Digital Keyway is the more secure and easier to use solution to the password problem." - Alan Payne, Founder of Digital Keyway, LLC
Upper Marlboro, MD (PRWEB) October 02, 2016
Digital Keyway, LLC. released their revolutionary secure password-less registration and login platform to the general public today. Their solution, which can be easily integrated to any website or service, uses a person's smart phone, tablet or computer to securely identify the user. No passwords required.
Key benefits of the Digital Keyway platform includes:
For users:

No more passwords or password managers.
Fast and easy registration and sign in to websites and services.
Best practices in security are built into the platform and are automatic.
For websites:
No need to store and safeguard user credentials and sensitive profile information in databases.
An end to users sharing passwords for paid services.
For developers
Standards based authentication (OpenID Connect) for easy integration.
An optional and easy to use API for complete control of the user experience.
"Passwords have failed. They failed a long time ago and they continue to fail us today. Till now there hasn't been a good solution to the password problem. Digital Keyway is the more secure and easier to use solution to the password problem," said Alan Payne, founder of Digital Keyway.
Digital Keyway is currently available in the Android market (https://play.google.com/store/apps/details?id=com.digitalkeyway.authorizer.client.android), and the chrome market (https://chrome.google.com/webstore/detail/digital-keyway-plugin/ddiaadobgihkgefcaajmkjgmnjakiamn). Plans are in place to release iPhone, Windows and Mac versions in the near future.
About Digital Keyway
Digital Keyway, LLC was founded in 2015 in Upper Marlboro, Maryland, USA. For more information, visit https://www.digitalkeyway.com or email info(at)digitalkeyway(dot)com.