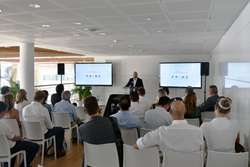 PRIME is in our minds a platform that offers so much space, that it creates a 70-meter yachting experience on a 50-meter yacht.
Monaco Yacht Show, Monaco (PRWEB) October 01, 2016
The PRIME Megayacht Platform, or PRIME, is perhaps the industry's first genuine semi-custom experience.
PRIME offers a full displacement 50-meter/499GT motoryacht platform developed to accept a wide variety of superstructures. This revolutionary concept affords clients the freedom to create a megayacht which reflects their personal style. Whether it be it an angular plumb bow or sleek modern lines, their PRIME Experience will be unique. To view the newly launched PRIME website, click here.
Azure Yacht Design & Naval Architecture was brought onboard to create a flexible, fully-engineered platform encompassing the hull and decks, and inclusive of mechanical, electrical and plumbing systems. Learn how the Platform evolved ... click here.
"PRIME is in our minds a platform that offers so much space, that it creates a 70-meter yachting experience on a 50-meter yacht", comments Bob van den Meiracker of Azure Yacht Design.
Layouts were optimized for private or charter use, while still retaining the ability to be repurposed for client-specific interests such as health & wellness, sports enthusiasts, etc. View the PRIME layouts ... click here.
Construction is entirely in aluminum for efficiency and a Bahamas-friendly draft. The hull design follows the proven comfort and hydrodynamics of large, sleek sailing megayachts, while smart engineering keeps fore decks dry even with vertical bow selections.
PRIME clients are invited to choose from The Collection, a growing portfolio of models from a select group of top tier yacht designers. Renowned firms such as Reymond Langton, De Basto Designs and Azure Yacht Design serve as pioneers in this unprecedented cooperation. View the complete Collection ... click here.
According to Luiz de Basto of De Basto Designs, "The fact that we have a set platform, can only be a source of creativity, not a limitation. If you have well-defined parameters, then you can be very creative."
Fulfilling on the semi-custom experience, and taking full advantage of PRIME's flexibility, clients can also create entirely new models. To accomplish this, clients are able to work either the resident design team, or with the yacht designer of their choosing, all at no additional cost.
PRIME construction will take place in The Netherlands by Bloemsma Yachts. Now helmed by Daan Balk, a 7th generation Master Builder, Bloemsma will work hand-in-hand with Azure's technical team, specialists, and the client's build surveyor, to ensure second-to-none Dutch quality and craftsmanship. To view the PRIME Founders & Build Team, click here.
This project has already attracted a potential buyer, with PRIME revealing at Monaco that the letter of intent for hull number one has been signed.