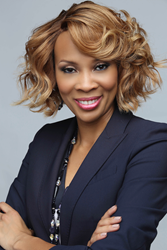 "It had been a long-time vision of my late husband and me to continue working towards community empowerment, a vision that he and I both shared," says Kiko Davis. "I proudly enter into our foundation's endeavors with dedication to carry out Don's wishes."
Detroit, Michigan (PRWEB) September 30, 2016
Don Davis, a native Detroiter, was a Grammy Award-winning music producer and businessman turned bank mogul. He purchased First Independence Bank, a minority-own bank headquartered in Detroit, in 1980 and served as chairman until his death in 2014. Kiko Davis now owns the bank (Barry Clay, CEO and chariman) that Black Enterprise Magazine ranked as the 11th largest African-American owned bank. Kiko Davis established the Don Davis Legacy Foundation this year to assist entrepreneurs, individuals and community service organizations, through scholarships, grants and educational programs. The Don Davis Legacy Foundation Awards & Tribute Gala is the foundation's inaugural fundraiser.
On Thursday, Oct. 6 the Don Davis Legacy Foundation will officially launch in grand style at its inaugural awards and tribute gala fundraiser, 5:30 p.m. (VIP Reception), 7:30 p.m. (awards and tribute program), at the Music Hall Center for the Performing Arts, 350 Madison in Detroit. Tickets range from $45 - $250 for VIP, and proceeds benefit the Don Davis Legacy Foundation.
The Don Davis Legacy Foundation Awards and Tribute Gala will close out the 89th Annual National Bankers Association Convention – an organization that Don Davis was associated with for many years.
The awards will honor four luminaries whose achievements are indicative of the business and philanthropy honors being bestowed. The honorees are:

The late Don Davis – The inaugural Outstanding Business Leader and Philanthropist Award (Posthumous)
Daymond John (Shark Tank) – Business Icon of the Year Award
Dr. Karl Gregory – Vanguard Award for Social and Economic Justice
Vivian Pickard – Corporate Excellence and Community Visionary Award
MTV, BET and NAACP Image Award-winning actress and producer Vivica A. Fox, along with NAACP Image Award-winning film and television actor and producer Laz Alonzo will serve as co-presenters at the gala. Renowned R&B music sensation Johnny Gill will perform for the audience of more than 1700 convention attendees and guests. Famed human beat box Doug E. Fresh will also be present.
Don Davis was an active member of the National Bankers Association, helping to improve regulations and policy. Over the last few years, the NBA has taken their concerns about the challenges facing member banks to senior staff at the White House, to leaders in Congress – especially the chairman and ranking member of the House Financial Services Committee – the secretary of the Treasury, the chairman of the Federal Reserve Board, the comptroller of the Currency and the chairman of the FDIC. The NBA works closely with the CDFI, allowing members' banks to increase minority business lending; and has also collaborated with the Small Business Administration.
For more information or to purchase tickets, visit http://www.DonDavisLegacy.org. To R.S.V.P. for red carpet media credentials please contact Lisa Wilmore at (313) 980.4766 by Oct. 5.
-####-
About the Don Davis Legacy Foundation
The Don Davis LEGACY Foundation is a collaborative empowerment initiative that bridges the gap between financial need and achievement. The foundation honors the life of the late Don Davis – a Grammy Award-winning music pioneer, banking mogul and visionary - by continuing his philanthropic efforts to give back and facilitate future successful legacies with scholarships, grants and key services. Our aim is to sustain the synergistic impact of partnership with our youth, families, assist organizations and the entire community that Don Davis so passionately supported. For more information, visit http://www.DonDavisLegacy.org. Follow us on social media at @DonDavisLegacy and #DonDavisLegacy.
About the National Bankers Association
The National Bankers Association, founded in 1927, is a consortium of African-American, Hispanic, Asian, Native American and women-owned banks. The organization is headquartered in Washington, D.C. Approximately 22% of MWOB's are NBA members. They are located in 29 states and 2 territories spanning 60 cities and the District of Columbia. They employ over 15,000. In the aggregate, MWOBs have assets in excess of 181 billion dollars and service over 3 million depositors. Collectively, the individuals who serve on the boards of directors of our member banks represent some of the most influential leaders in minority communities and urban centers across the country. Since 1980, the NBA has formed a successful partnership with Treasury representatives of several Fortune 500 corporations. For more information, visit http://www.nationalbankers.org.