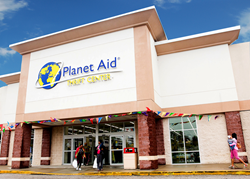 Baltimore, MD (PRWEB) September 30, 2016
The Planet Aid Thrift Center will be celebrating it's one-year anniversary on Saturday, October 1. In celebration of the event, the Center is offering a storewide discount of 25 percent the entire weekend (Saturday, October 1, and Sunday, October 2).
The Thrift Center has been popular among shoppers in the greater Baltimore community, and has developed a reputation for offering quality clothing and other goods at an affordable price.
"This past year has been fabulous and has flown by," stated Joe Calderon, Thrift Center Store Manager. "We are grateful for all the community members who have supported us in getting started and we welcome them to come celebrate with us this weekend."
The Planet Aid Thrift Center accepts donations of lightly used clothing, accessories, shoes, books, games, home décor and more. Thousands of items are displayed at the 32,000-square-foot thrift center, all of which are for sale at a reasonable price. The proceeds from the sales support international development projects in Africa, Latin America, and Southeast Asia.
In addition to the Thrift Center, Planet Aid has thousands of yellow clothing donation bins in 21 states across the continental United States. Unwanted clothing and textiles dropped into those bins are recycled and sold, and the net proceeds raised from this funds international initiatives.
About Planet Aid
Planet Aid is a U.S. 501 (c)(3) nonprofit and is registered with USAID as a private voluntary organization. Accredited by the Better Business Bureau's Wise Giving Alliance, Planet Aid collects and recycles used clothing and shoes as part of its environmental mission. The net proceeds from its 21-state recycling operation help to support projects aimed at eliminating poverty. Since its inception in 1997, Planet Aid has provided more than $100 million to support projects on three continents. Planet Aid supports programs in education, teacher training, nutrition and agricultural and economic development.