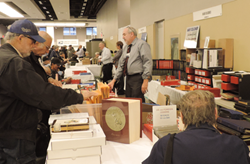 Get into Stamp Collecting -- the Hobby for a Lifetime!
Centre Hall, PA (PRWEB) October 02, 2016
The American Stamp Dealers Association, Inc. is hosting its annual Fall Postage Stamp Show, October 6-9, 2016, in New York City, the Big Apple. The show will be held at the New York Hilton Midtown, 1335 Avenue of the Americas, 6th Avenue and 53rd Street, New York, NY 10019. The doors open daily at 10 a.m. Thursday, Friday and Saturday the show runs until 6 p.m.; Sunday until 3 p.m. There is something for everyone from the experienced to the non-collector — dealers, specialty collecting groups, seminars, and much more. Admission is free.
What To Do at the Show
Shop 'Til You Drop — Dealers will be buying and selling stamps and historic envelopes from across the nation and around the world — from vintage to modern, stamp collecting supplies, and more. Collectors can purchase with confidence with ASDA Member Dealers.
Be Present at Two First Day Ceremonies — The United States Postal Service will unveil their Holiday Windows stamps, October 6 at 11 a.m. Portraying winter nights, these elegant stamps showcase ways we observe traditions and spread cheer, letting us delight in the snow when we're inside while also sharing our warmth and merriment with the outside world. Available in booklets of 20 with each design repeated five times, the stamps feature a candle, a wreath, a star, and a lighted tree. For all your postal needs, visit https://www.usps.com/.
The United Nations Postal Administration will be celebrating World Post Day, October 9, at its First Day Ceremony, October 6 at 1 p.m. For more information about United Nations stamps visit http://unstamps.org.
Take Advantage of the Free Appraisal Service — Bring in those stamps/collections that you have inherited or been storing for years. This free service will put a verbal value on your material and advise you on what to do with the collection. The appraisal service will be open for business from 10 a.m.–3 p.m. each day of the show. To participate in this service, check in at the ASDA Booth located at the show entrance.
Be Part of the Online Buying and Selling Seminar — Wendy Masorti, American Philatelic Society Director of Internet Sales and Webmaster will guide attendees through buying and selling stamps online at 2 p.m. on Friday, October 7.
Attend Meetings and Seminars — Saturday afternoon will be busy and informative: 1 p.m., the Vatican Philatelic Society will hold a General Meeting; 2 p.m., there will be a seminar on Roman States and the Mail; and at 4 p.m., there will be a seminar on Exhibiting Iceland.
View a Special Exhibit — John Pendeault's two-frame exhibit titled "The Effect of the Civil Unrest on Iceland Mail," will be on display.
Buy Stamps from Postal Agencies — The United States Postal Service will have a stamp counter, First Day cancels, and a cancellation area. Visit the United Nations Postal Agency Booth to purchase their newest stamps and other issues.
Visit Society Booths — Six stamp collecting societies will have a presence at the show: the American Philatelic Society, American Topical Association, Ebony Society of Philatelic Events and Reflections, Inc., Scandinavian Collectors Club, Vatican Philatelic Society, and the American Philatelic Society.
Kids, Get Into Collecting — Enjoy the fun and challenge of stamp collecting. Each child, ages 6-10, who is accompanied by an adult, will receive a free copy of 'My Stamp Album."
Get the Special Daily Show Cancel and USPS First Day Cancel — Be sure to visit the ASDA Table to purchase show souvenirs.
Take a bite out of the Big Apple, Come to the Show — October 6–9 at the New York Hilton Midtown. Explore the wide, wonderful world of postage stamp collecting — a hobby for a life time.
Visit the ASDA on line (http://www.americanstampdealer.com for all show information — schedule of events, dealers in attendance, and more.
The American Stamp Dealers Association, Inc., is a professional organization serving stamp collecting and its dealers since 1914.