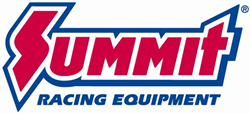 Tallmadge, OH (PRWEB) October 03, 2016
Summit Racing has added the latest Scat Engine Rotating Assemblies to its inventory. Hundreds of kits are available for classic Detroit V8s as well as modern GM LS, Gen III Hemi, and Ford 4.6L/5.0L modular engines--some kits can support well over 1,000 horsepower.
Standard Rotating Assemblies
Scat's standard rotating assemblies feature have high-quality Scat 9000 cast or 4340 forged cranks; standard, I-beam, or H-beam connecting rods with 3/8 or 7/16 inch bolts; pistons and ring sets from SRP, JE Pistons, Ross, Keith Black, Diamond, or Probe; and King, Federal Mogul, or Clevite 77 bearings. The rotating assemblies are available in balanced or unbalanced kits and in multiple bore and stroke configurations.  
Summit Racing has Scat Rotating Assemblies for all popular Chevy, Ford, and Mopar V8 engines in standard cubic inch and stroker combinations.
Scat Pack Rotating Assemblies
The engineers behind Detroit's latest crop of musclecars did a bang-up job of building potent machines, but there's always room for improvement. That's where Scat comes in—it's created Scat Pack Rotating Assemblies for GM LS, Gen III Hemi, and Ford 4.6L/5.0L modular engines. Scat Packs feature 4340 steel cranks and H-beam connecting rods, forged pistons, piston rings, rod bearings, main bearings, and ARP hardware.
Summit Racing Equipment
http://www.summitracing.com
1-800-230-3030