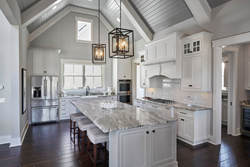 Where Lake Life is Good
Hilton Head, South Carolina (PRWEB) October 01, 2016
These days at Hampton Lake, one of the top Bluffton SC retirement communities (who also has good share of young families), there has been tons of exciting news for residents and guests. From the new Concept Homes Collection, to the upgrades on the lake, and the new yoga instructor and classes at "Fitness Central", there are many new things to see and do for members of the community. Whether folks like boating, golf, tennis, or simply enjoying their backyard, Hampton Lake has plenty of space for folks to call their own. Folks who are considering Hampton Lake real estate, here is some of the latest news and upcoming events:
NEW CONSTRUCTION
New Hampton Lake real estate in Hampton Lake's Phase 3 has quickly become some of the most sought after property in Bluffton SC retirement communities. And with the addition of the Concept Homes Collection, even more sales are expected in the second half of 2016. Management informed Real Estate Scorecard about the start of construction at the Parkside Amenity site in Phase 3, which will include brand new Crystal Lake, a new pool, and a pavilion. This first phase of construction will include building Crystal Lake. The projected plan is to have this area ready for member use in early Spring 2017. Construction of the new pool at Parkside will begin shortly after, depending on the sales pace in Phase 3.
UPDATES AT THE COOL POOL
For residents of Hampton Lake, nothing beats a sunny day of chilling at The Cool Pool. Here folks can go for a swim, sip a cool drink, and enjoy a fresh lakeside breeze. New enhancements to the pool deck have added better access to the Tower Bar, and improved landscaping has enhanced the view of the lake and brought more inclusion overall to the pool, beach and Tower Bar areas. Additionally, the painting of all the amenity buildings is scheduled for the fall. This includes gatehouse and all amenity buildings and is underway now.
FITNESS CENTRAL
At this state-of-the-art fitness center, right beside the lake, folks can stretch, lift weights, run a few miles, or sit in the indoor hydrojet pool. And now they can join the new Yoga instructor, Gary, on Saturdays for Ying/Yang Yoga class. The class balances the newly developed Yin yoga with traditional Yang yoga, starting off with a deep, introspective, and quiet stretch that evolves into an energizing and uplifting session, meant to keep folks invigorated throughout the rest of the day.
THE SPA
Imagine having a first-class spa right in the community. Well, at Hampton Lake's exclusive spa, folks can now enjoy a new relaxing cold stone aromatherapy massage, as well as all of the other massages the Spa is known to offer. This new treatment helps reduce tension while simultaneously giving one a feeling of strength and invigoration, and is just one of many new treatments and services to come to the community.
BACKWATER BILL'S GRILL
When it comes to dining in the community, residents love Hampton Lake favorite Backwater Bill's Grill. This local spot offers low country food, stunning lake views, and an extensive beer and wine menu. Now the Tower Bar Lunch Menu features a chicken salad sandwich, fall salad, crab cake sandwich, and famous turkey burger! The menu is available Friday and Saturday afternoons.
Additionally, the Tower Bar Pub menu is available Friday and Saturday evenings, with new items including a BBQ brisket sandwich, bacon lobster mac and cheese, shrimp and andouille burger sliders, and much more!
And best of all, local favorite River Dog Red India Pale Ale is now on tap at the bar!
WHAT ELSE?
These are just a few of the new things coming to Hampton Lake. In the coming year, Real Estate Scorecard was informed there will be new announcements and great surprises for residents and guests. Folks interested in Hampton Lake real estate will find now is a great time to check out Bluffton SC retirement communities. Whether folks prefer a villa, a town home, or a single family home, there are many new homes Bluffton SC here to choose from. Some of the new homes Bluffton SC that folks will find at Hampton Lake include:
182 Hampton Lake Crossing - 2 bedroom, 2.5 bath villa in a stand alone building with 2 garage spaces, boat storage, an eat-in kitchen, and a porch with a built in grill. Overlooking a deepwater lake, this villa is perfect for those who love fishing and boating in their own backyard. This villa is listed at $539,900.
105 Hampton Lake Crossing - Beautiful new free standing townhome within a short stroll of the award winning Lakeside Amenity Village. Spacious rooms, beautiful lake views and quality appointments make these new Lakeside Towns a must see. 3 and 4 bedroom plans available. All homes include elevators. Priced in the mid 600's. Estimated completion September 2016.
2 Waterview Court - A charming 4/3 open floor plan with lots of space, and features a vaulted living room with optional built-ins. A large master suite includes trey ceilings, garden tub for soaking away the day and dual walk-in closets. With the guest bedrooms off to one side of the house, privacy is guaranteed. Hardwood floors throughout the formal areas are an added bonus. A screened porch and additional patio adds another area ideal for outdoor entertaining.
Now is a great time to explore the Lowcountry real estate development.
Call Hampton Lake direct at 866.875.5253 to schedule a tour and check on Discovery Package availability.
About Real Estate Scorecard:
Real Estate Scorecard writes unbiased real estate reviews providing in-depth information about popular gated communities in Florida, Georgia, the Carolinas, Tennessee and Central America, all in an effort to help people discover where to retire in the South.
Website: http://realestatescorecard.com