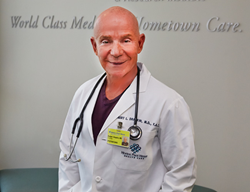 The drug stimulates the body on a cellular level, increasing metabolic rate and increasing cell sensitivity to insulin and the breakdown of glucose.
Clearwater, Fla. (PRWEB) October 03, 2016
The Western world has experienced an alarming increase in obesity, heart disease and diabetes in recent years. Medical experts believe a sedentary lifestyle, combined with a diet filled with high-calorie, processed foods, is responsible for this epidemic. Traditionally, doctors who specialize in health living—such as Robert Drapkin, M.D., a board-certified physician in Internal Medicine, Medical Oncology and Palliative Care—recommend proper nutrition, portion control and regular exercise to treat these conditions. Now, researchers in Australia think they have created an effective therapy in the form of a pill.
Researchers at Australia's Deakin Medical School are developing a pill designed to mimic the benefits of exercise on the metabolic system. In studies, this "exercise pill" has enabled obese, sedentary mice to run longer and burn more fat than their untreated counterparts.(1) The drug works through epigenetics-by activating certain genes that are involved with the body's metabolism.(2) "The drug stimulates the body on a cellular level, increasing metabolic rate and increasing cell sensitivity to insulin and the breakdown of glucose," explained Robert Drapkin, M.D., F.A.C.P., an expert on healthy aging and the author of Over 40 & Sexy as Hell! According to Dr. Drapkin, the most promising result of studies so far is the improved cardiovascular function in mice. "Right now, doctors have difficulty treating obese patients with heart disease and obese patients with musculo-skeletal dysfunction since both of these groups of patients may not be able to exercise". "Exercise is the key to increasing the mitochondria within cells and making these cells healthy and full of energy". When this new approach becomes approved for human consumption, this so-called "exercise pill" could prove to be beneficial as part of a therapeutic strategy."
However, while the "exercise pill" was effective in improving cardiovascular health in mice, researchers note that the pill did not help the study subjects lose weight.(1)(2) In fact, the mice actually ate more, counteracting any weight loss they might have experienced from the drug.(2)
According to Dr. Drapkin, a healthy diet and exercise are necessary for sustained weight loss and optimal health. The pill is a breakthrough for those who are unable to exercise due to injury, age or disability, but it cannot provide the full benefits of exercise and a healthy diet. A healthy life style has three main components:

Single source unprocessed food that grows in the ground or runs, flies, walks or swims;
Exercise that includes a cardiovascular component and a resistance component; and
Supplements, since certain vitamins may be missing and hormone levels may be below normal.
Dr. Drapkin explains, "All humans have inherited the body of a long distance runner that does not adapt well to a sedentary life. In addition modern technology such as automobiles and elevators add to our lack of exercise, yet are necessary. Without exercise people lose 1% of their muscle mass every year and become weaker, less active, and fatter." Dr. Drapkin goes on to explain that it is the accumulation of visceral body fat that eventually lead to the small blood vessel diseases that are fatal to most Americans. "A decrease in calories," he said, "Leads to a guaranteed longer life. However, this is difficult to do since the brain and body prefer to remain constant. The brain will attempt to lower the metabolic rate and increase a person's appetite when you decrease calories." Adding exercise will offset this reaction and decrease the appetite. In turn, the person's metabolic rate will also increase. Without exercise all diets will eventually fail.
Dr. Drapkin is dedicated to helping patients live better, more fulfilling lives by focusing on the benefits of exercise and nutrition. His interest in healthy aging and developing a healthy lifestyle began with his personal experiences in overcoming bad habits. Through education and hard work, Dr. Drapkin not only improved his own well-being, but became a world-class bodybuilder. At the age of 72, he has placed 2nd in the nation for his age group for the last two years in a row. Now, Dr. Drapkin brings his knowledge and experience to other seniors through guest appearances, lectures and his book, Over 40 & Sexy as Hell!
About Robert Drapkin, M.D., F.A.C.P.:
Robert Drapkin, M.D., is a health care provider who is board-certified in Internal Medicine, Medical Oncology and Palliative Care. For the past 36 years, Dr. Drapkin has been in active practice as a doctor, working to ensure the best quality of life for his patients as they age. While in his fifties, Dr. Drapkin became inspired by his own unhealthy habits to educate himself on diet and exercise. He then went from living an unhealthy lifestyle to becoming a premier bodybuilder, and at the age of 71, Dr. Drapkin has been a competitive body builder for 17 years and has won many titles and contests. Fed up by the perpetuation of myths in the subject of elderly fitness and health, Dr. Drapkin decided to share his education through public speaking, and has become a media source for accurate information regarding healthy aging. Dr. Drapkin authored the book, Over 40 & Sexy as Hell!, available on Kindle and in paperback on Amazon.com at http://www.amazon.com/Over-40-Sexy-as-Hell-ebook/dp/B01BQN6CBA. For more information, visit http://drrobertmdfacp.com.
1. "Too good to be true? Exercise pill that 'tricks' the body into thinking you've been working out," Australian Associated Press. http://www.dailymail.co.uk/news/article-3788490/Too-good-true-Exercise-pill-tricks-body-thinking-ve-working-out.html.
2. McLennan, Leah and Poole, Fi. "Deakin University scientists closing in on 'exercise pill'," ABC News. http://www.abc.net.au/news/2016-09-14/australian-scientists-closing-in-on-miracle-exercise-pill/7844420.