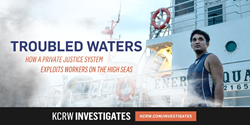 Imagine losing a limb, going blind or almost dying on the job. And then imagine not being able to hold those responsible accountable.
Los Angeles, CA (PRWEB) October 05, 2016
KCRW's ongoing reporting project, KCRW Investigates, continues with an original series about abuse of seafaring crews on cargo and cruise ships, one, a key Los Angeles industry, and the other, a robust port of call.
Seafarers move millions of people and billions of goods around the world every year. It's always been a dangerous profession, and that's why it's had global protections for hundreds of years. But some of those are unraveling thanks to a private system of justice that some say is anything but just.
A quarter of all seafarers are Filipino. This is a workforce that has few protections. KCRW reporter Karen Foshay investigated how a private system of justice, relying on arbitration rather than the courts, leads to exploitation of seafaring crews. She talked to workers from around the world and in Long Beach, where workers coming through the port told her stories of death, injury and injustice.
"Troubled Waters: How a Private Justice System Exploits Workers on the High Seas," presents Foshay's findings in a two parts that that will air this week on KCRW's Morning Edition and All Things Considered Wednesday and Thursday, October 5-6:
The Secret World of Arbitration– Imagine losing a limb, going blind or almost dying on the job. And then imagine not being able to hold those responsible accountable. Arbitration is routinely used by companies worldwide to keep injured workers out of courts and out of the public eye. (Airing October 5)
Low Wages on the High Seas– Even though many of the companies that employ seafarers are US based, they are exempt from US labor laws – paying a fraction of the minimum wage because they are "foreign flag vessels," ships based in the US but registered in other countries. (Airing October 6)
Maritime trade has always been a grueling and dangerous profession, but it is now seeing some long-standing worker protections stripped by private systems of justice that impose arbitration for settling disputes. For Filipinos, arbitration clauses are included in overseas employment contracts. Often the employer requiring the arbitration also pays for the arbitrator, who doesn't have to be a judge or a lawyer. Their decision is final and with few exceptions, not subject to appeal. The arbitration hearings are private and companies can make injured workers fly anywhere in the world to attend them. If workers don't show up, they automatically lose.
"Troubled Waters: How a Private Justice System Exploits Workers on the High Seas" is funded by a generous grant from the Conrad N. Hilton Foundation as part of a multi-year reporting project to tell stories of Los Angeles' most vulnerable communities. It follows "Burned: Abuse in LA's Restaurant Industry," Karen Foshay's investigation into the abuses of restaurant workers, and "Below the Ten: Stories of South LA," a year-long documentary series from producer David Weinberg. These documentaries focus on issues affecting the lives of Los Angeles residents who find themselves on the edges of society.
For more information and online access to full audio and video featurettes, please visit:
kcrw.com/investigates
About Karen Foshay
Award-winning investigative reporter Karen Foshay, who spent two months on these stories, is a former senior producer with Al Jazeera America. Before joining Al Jazeera America, she was a producer for PBS, NBC and CBS and KPCC. She has been honored with more than 30 journalism awards, including two DuPont-Columbia silver batons, a George Foster Peabody and a Casey Medal for Meritorious Journalism. Karen is available for comments or inquiries.
About KCRW
KCRW creates and curates a unique mix of content centered around music discovery, NPR news, cultural exploration and informed public affairs. We are driven by the spirit of LA and deliver in innovative ways -- on the radio, digitally and in person -- to diverse, curious communities around the corner and around the world. A community service of Santa Monica College, KCRW can be found on the air in LA, Santa Barbara, Ventura, Mojave, Palm Springs, and via five KCRW-developed smart phone apps and online at kcrw.com.
About the Conrad N. Hilton Foundation
The Conrad N. Hilton Foundation was created in 1944 by international business pioneer Conrad N. Hilton, who founded Hilton Hotels and left his fortune to help the world's disadvantaged and vulnerable people. The Foundation currently conducts strategic initiatives in six priority areas: providing safe water, ending chronic homelessness, preventing substance use, helping children affected by HIV and AIDS, supporting transition-age youth in foster care, and extending Conrad Hilton's support for the work of Catholic Sisters. In addition, following selection by an independent international jury, the Foundation annually awards the $2 million Conrad N. Hilton Humanitarian Prize to a nonprofit organization doing extraordinary work to reduce human suffering. In 2015, the Humanitarian Prize was awarded to Landesa, a Seattle-based land rights organization. From its inception, the Foundation has awarded more than $1.4 billion in grants, distributing $107 million in the U.S. and around the world in 2015. The Foundation's current assets are approximately $2.5 billion. For more information, please visit http://www.hiltonfoundation.org.