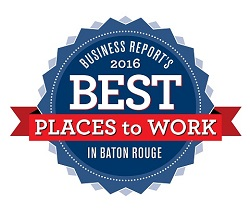 It's a great honor to be recognized for the second year in a row as one of the Best Places to Work in Baton Rouge. Building great homes requires us first to build a great company — Todd Waguespack, managing partner, Level Homes
Baton Rouge, La. (PRWEB) October 11, 2016
Level Homes, a fast-growing, top 200 home builder based in Baton Rouge, La., was named one of the 2016 Best Places to Work in Baton Rouge.
This is the second year in a row that the award-winning builder has been honored, placing fourth in the small and medium-sized company category.
"Delivering the level of quality and service that our homebuyers expect requires a world-class team of highly trained, highly motivated, customer-focused employees," said Todd Waguespack, managing partner of Level Homes.
"It's a great honor to be recognized for the second year in a row as one of the Best Places to Work in Baton Rouge," Waguespack added. "Building great homes requires us first to build a great company. This award honors the team we've built."
Judges in the program cited the company's crawfish boil and events like Flip Flop Friday and Favorite Team Jersey Fridays during football season as examples of Level Homes' unique culture.
The Best Places to Work awards program is a project of the Greater Baton Rouge Business Report, the Greater Baton Rouge SHRM (an affiliate of the Society for Human Resource Management) and Best Companies Group.
The awards program was created two years ago to honor Baton Rouge's best places of employment while also benefiting its economy, workforce and businesses.
Companies from across the region that are considered for the honor must meet the following requirements:

Have at least 15 employees working in Baton Rouge;
Be a for-profit or not-for-profit business;
Be a publicly or privately held business or government entity/municipality;
Have a facility in Baton Rouge and
Have been in business a minimum of 1 year.
To determine the best places to work, each company's workplace policies, practices and demographics are evaluated. That comprises approximately 25 percent of the total evaluation. A survey of employees which measures the employee experience is worth approximately 75 percent of the total evaluation. The combined scores determined the top companies and the final ranking.
To see this year's list of small to medium sized company winners in Baton Rouge, please visit https://d1dxs113ar9ebd.cloudfront.net/businessreport/2016/09/BPTW-Small3aMed_2016.pdf.
For more information on the Best Places to Work in Baton Rouge program, visit http://www.BestPlacestoWorkBR.com or contact Best Companies Group at 877-455-2159.
Founded in 2000, Level Homes builds home in Baton Rouge and other leading markets in Louisiana, as well as in the Raleigh, N.C. area. In 2015, Level Homes was recognized as a Top 200 Builder in the nation and named the fastest growing Next 100 builder in the United States by Builder Magazine.
To learn more about Level Homes, its award-winning new homes and communities and the firm's unique approach to building "Life. Style. Home.", visit http://www.levelhomeslifestyle.com/.