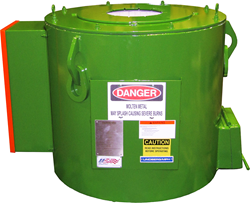 This furnace is designed for not only easy maintenance and convenient operation, but also, dependability and durability which results in many repeat customers such as this one.
Riverside, MI (PRWEB) October 03, 2016
Lindberg/MPH announced the shipment of a Stationary Electric Resistance Melting and Holding Crucible Furnace to a leader in the automobile industry. The crucible furnace will be used for melting aluminum alloys in a laboratory setting for research and development.
This furnace has a melt rate of 50 lbs. per hour and holding capacity of 150 lbs. It utilizes low voltage heating elements that provide long service life. The furnace is highly insulated providing uniform temperature control, a low exterior shell temperature which results in lower operating costs.
Unique features of this crucible furnace include:

Rugged steel plate furnace construction
Low voltage rod over bend heating elements
Highly insulated backup material
Stand-alone control panel
Step down element transformer
Slag port door
This crucible furnace is factory tested and adjusted prior to shipment to help reduce installation and start-up times. The furnace is backed by Lindberg/MPH's Exclusive 3-Year Warranty. This warranty covers all materials for all components (less wear items).
About Lindberg/MPH
Lindberg/MPH is a leading manufacturer of standard and custom industrial heat treat furnaces, including pit, box, IQ, and belt type for the ferrous and non-ferrous markets. Lindberg/MPH customers cover a wide range of industries including aerospace/military, automotive, commercial heat treating, energy/oil, electronics and the forging markets. Founded in 1917, the company has more than 75,000 industrial furnace installations worldwide and their equipment is backed by a full range of customer support services and the most extensive replacement parts inventory in the industry. Lindberg/MPH is a proven leader in the thermal processing industry, with a long track record of proven policies and management practices.
Lindberg/MPH is owned by Thermal Product Solutions ("TPS"), a leading American manufacturer of custom industrial ovens used for heat treating, finishing, drying, curing, manufacturing automation and process control. TPS is a global leader in thermal processing products and test solutions with brands including Baker Furnace, BlueM, Gruenberg, Tenney, Lindberg, MPH, and Wisconsin Oven. For more information on equipment solutions from TPS visit the website at http://www.thermalproductsolutions.com. #224332