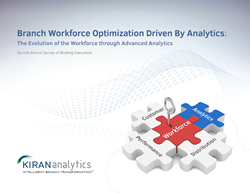 Workforce optimization remains a top branch transformation priority.
San Diego, CA (PRWEB) October 04, 2016
Kiran Analytics – a leader in intelligent branch transformation – announced today the release of its second annual Workforce Strategies survey findings. The report covers the role of the branch in omni-channel distribution, branch transformation priorities, key workforce challenges, top priorities for optimizing the workforce, and applications of advanced analytics for workforce optimization. The survey reveals a noteworthy change: The focus is shifting from expense reduction to growth-oriented workforce strategies.
Kiran Analytics surveyed executives from 50 retail banks representing more than 42,000 branches in North America. Kiran's survey shows that workforce optimization remains a top branch transformation priority.
"Face-to-face interactions and new account openings in bank branches provide the best opportunities to deepen customer relationships. Quality of these interactions heavily depends on having the right staff in front of the customer at the right time and place. That is why retail banking leaders place workforce optimization among their top branch transformation priorities," said Jim DeLapa, CEO of Kiran Analytics.
Within the study, banking managers outlined their critical workforce optimization initiatives as:

Acquiring and retaining top talent
Aligning selling capacity to market opportunity
Providing sales training and incentives
Deploying universal banker
Reducing over-staffing
DeLapa added, "Optimizing staffing capacity and capability is difficult because of the accelerating pace of change in retail banking. Bank managers need to make better workforce decisions, faster. New, innovative workforce optimization solutions driven by predictive analytics can provide the ability to continually align staffing roles and resource capacity with market opportunity."
Key findings from the survey include:

Seventy percent of the respondents indicated talent acquisition and retention as a top workforce challenge.
Only 8% of the surveyed bankers rated the alignment of selling capacity to market opportunity of their banks as optimal.
Retraining tellers and personal bankers to become universal bankers rank as the most popular workforce strategy.
Nearly half of the banks have already deployed the universal banker staffing model—with the remaining half in the investigation or pilot stage.
Fifty seven percent of the bankers rated their bank's commitment to advanced analytics for workforce as high to very high.
About Kiran Analytics
Kiran Analytics drives intelligent branch transformation for retail banks through the application of predictive analytics. Kiran's solutions have been deployed in over 15,000 branches helping to forecast optimal branch staff levels accurately, hire better people faster, and to plan and schedule resources efficiently. As a result, retail banks increase sales and customer service while reducing operational costs. Kiran Analytics is a member of Bank Administration Institute (BAI), Consumer Bankers Association (CBA), and British Bankers Association (BBA). Kiran Analytics Inc. headquarters is based in San Diego, California and Kiran Analytics Ltd. is based in London.