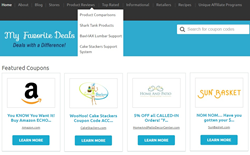 When we create a listing we are keenly aware that we're reaching out to other people just like us – people who want a good deal on a product or service, but who are also going to be recognized as a valued person and customer – not just a mouse-click.
Boston, MA (PRWEB) October 04, 2016
New England based coupon and discount website, http://www.myfavdeals.org is rapidly becoming as well known for their byline, "Deals with a Difference" as they are for the deals that they promote.
According to site spokesperson and Vendor Relations Specialist Kathy Tremblay, what is setting this website apart from others in this space is that while they offer coupon codes like so many others in this genre, they also share in depth reviews, product comparisons, and company profiles, along with a ton of informational and educational articles.
She states, "We offer as much value-added content as possible. Even coupon listings often have accompanying content or reviews, particularly if they are evergreen in nature."
In explaining the passion she and her partners share for this approach, she emphasizes that their goal is to make sure that when visitors come to the site, they not only find a great deal or discount on the product they're looking for, but also important information about a product or service that may help them make a better buying decision.
And these in-depth features are what prompted the team to begin recognizing outstanding merchants by awarding their exclusive MyFavDeals "Stamp of Approval."
She explains that they began to notice some truly outstanding products – a number of which aren't terribly well-known, but really warrant additional promotional efforts on their part. Also, a team member may personally try a specific product and have such a good experience with it that they want to "pretty much shout it from the rooftops," she laughs.
Other times, the product is just downright clever, or the merchant is known for terrific customer service, or are "just really nice people," she says in explaining why they want to give them some special recognition. The Stamp of Approval is one of the ways they can do this, she says.
Furthermore, she explains that this is also a way to help introduce smaller or lesser known vendors to the buying public, and helping customers get to know the people and personalities behind the scenes.
This personal relationship with vendors is something that MyFavDeals.org takes very seriously. She explains that sometimes they get to know a vendor and their products, and reach out to them for interviews that they publish at the site to help shoppers learn even more about a product or the people behind the brand.
Ms. Tremblay explains, "We're all very people-oriented. When we create a listing for a product, or promote a vendor, we are keenly aware that we're reaching out to other people who are just like us – people who certainly want a good deal on a product or service, but who are also going to be recognized as a valued person and customer – not just a mouse-click."
Ms. Tremblay says that she and her partners enjoy hearing from the merchants who confirm that what they write is helping people understand more about what they are doing. And that's why, she says, they are "Deals with a Difference." As she says, anyone can post a coupon – and they do it too – but not a lot of people take the time to express their own take on a product while they promote it.
She concludes, "It is all about people – whether it's the customer or the vendor." She says that if they can show their customers that there are people just like them behind the scenes of the products they are buying, then it's a win-win situation for everyone.
About MyFavDeals.org
MyFavDeals.org was founded in 2014 by Martin Lotsberg and Kathy Tremblay, both New England based entrepreneurs. They, along with their additional partners have a wide range of interests and hobbies which is reflected in the variety of vendors and products that they seek out for inclusion on the website. Potential merchants can contact the team through the website, and shoppers are also welcome to suggest and recommend products for inclusion.