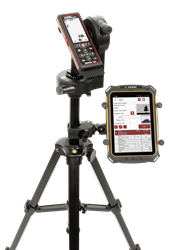 The TruPoint 300 really expands LTI's product portfolio with a full range of laser models. We now have a solution that offers survey-grade accuracy at a price point that rivals anything in the marketplace.
Centennial, CO (PRWEB) October 05, 2016
Laser Technology, Inc. (LTI), the leading designer of professional-grade laser rangefinders for field data collection and mapping, is announcing the release of the TruPoint 300, a fully integrated laser with vertical and horizontal angle encoders capable of producing 3-dimensional, survey-grade measurements. The TruPoint 300 costs thousands less than traditional total stations and is a fraction of the size, yet it still produces +/- 1 millimeter range accuracy.
LTI is known for developing pulse-laser technology that is used in their professional-grade lasers for field measurements and mapping as well as the world's most popular line of recreational rangefinders by Bushnell for golfing and hunting. Years ago, LTI's TruPulse® series hit the professional market by storm because it was the size and weight of a handheld recreational rangefinder, but possessed a higher degree of accuracy, had data output communication via Bluetooth® as well as onboard solutions such as percent slope, height and missing line values. The TruPoint 300 is LTI's first phase-technology product with a laser diode that emits light pulses with a distinct wavelength and pulse repetition frequency that obtains millimeter accuracy.
The higher level of accuracy and the fully integrated MapStar® Angle Technology make this an ideal solution for thousands of professionals who work with GIS, incident mapping, crush analysis, surveying, electric utilities, architecture, and construction marketplaces. The TruPoint 300 will measure the distance between two remote points and has onboard solutions for volume, height, 2D and 3D area. Professionals can easily navigate through measured data, routines, and menus with the full-color touch screen display. For improved aiming confidence, the integrated red-dot visual indicator and crosshair with 4-power zoom camera make taking measurements easier, especially when taken indoors. The unit will also capture a photo of every shot taken that includes raw measurement values and onboard calculations. These photos and data can be stored in a CAD-friendly format for professional documentation. With Bluetooth and WLAN capabilities, professionals can now wirelessly communicate with apps and transfer X, Y, Z point data files with images. Several measurement and mapping apps designed by LTI are expected to release within the next several months.
LTI's LaserSoft CORe Android App is currently available on the Google Play Store. Designed specifically for use with the TruPoint 300, LaserSoft CORe allows professionals to collect, organize and report measurements for field data collection across any industry. The remote fire feature permits increased stability, safety and speed. Ensure data and image organization with the ability to classify according to custom categories and sub-categories. Professionals can also capture photos using the TruPoint 300's integrated camera that are automatically associated with each measurement. Project reports are transferred wirelessly via email or with a cable.
"The TruPoint 300 really expands LTI's product portfolio with a full range of laser models. We now have a solution that offers survey-grade accuracy at a price point that rivals anything in the marketplace," says Derrick Reish, Laser Technology's Professional Measurement Sr. Product Manager. "It also opens up more opportunities in markets where our flagship TruPulse models were not a good fit for specific applications such as indoor measurements or mapping within tighter spaces."
The TruPoint unit and a laser aiming assist accessory are currently in stock and are ready to ship. Learn more about pricing and find a list of authorized dealers for the TruPoint 300 or call 1.303.649.1000 to speak to an LTI representative.
About Laser Technology, Inc.
As of 2016, Laser Technology, Inc. has been in business for thirty years with a primary focus on laser-based measurement products for professional measurement and mapping, traffic safety and industrial applications. Holding over 68 patents along with some pending, LTI is the clear leader of pulse-measurement technology and has a strong, worldwide partner and distribution network. Headquartered in Centennial, Colorado, Laser Technology is a privately-held company with David Williams as Chief Executive Officer.