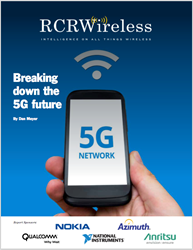 4G is the workhorse of telecom networks, and thus the technology focus turns its gaze to new challenges, such as the much-hyped 5G. But what exactly is it?
Austin, Texas (PRWEB) October 03, 2016
RCR Wireless News spoke with more than a dozen companies, including telecom operators like Sprint, Verizon Communications, AT&T, T-Mobile US and U.S. Cellular; vendors like Nokia, Qualcomm, National Instruments and Anritsu; and sought insight from industry analyst firms 556 Ventures, IHS Markit, The Kerton Group and 5G Americas to get a thorough update on current progress in terms of the development and deployment of 5G technology.
The report, entitled: "Breaking down the 5G future," contains insight into current work being conducted in the 5G space; what exactly is 5G from standards and real-world perspective; where mobile operators are today in terms of their 5G technology trials and deployment plans; potential use cases and the need for 5G technology; what role spectrum will play in 5G, including the ongoing 600 MHz incentive auction, plans for spectrum sharing in the 3.5 GHz band and work in the millimeter wave bands; how current 4G LTE networks and technologies fit into the 5G ecosystem; and opinions on the marketing challenges in terms of 5G technology and networks.
"It seems you can't read or watch anything today related to the mobile telecommunications space and not see the term '5G' thrown about," said Dan Meyer, Editor-in-Chief at RCR Wireless News. "In fact, at the recent CTIA Super Mobility and Competitive Carrier Association Annual Convention, which are considered the pre-eminent mobile-focused trade show on the domestic scene, 5G was attached to just about every keynote presentation, educational session and conversation on the respective show floors."
Download this report to learn:
● Current standards work being conducted on 5G technology
● Industry perspective on what 5G technology needs to include
● Network operator 5G technology and deployment trials
● Potential use cases expected to power initial 5G deployments
● The role spectrum is set to play in the move towards 5G networks
● How 5G deployments are set to build on current 4G LTE technologies
● A different perspective on how the industry should approach 5G deployments
Watch the complimentary editorial webinar featuring:

Dan Meyer, Editor-in-Chief, RCR Wireless News
Bill Ho, Founder and Principal Analyst, 556 Ventures
Günther Ottendorfer, COO of Technology, Sprint
Michael Murphy, CTO for North America, Nokia
Durga Malladi, SVP of Engineering, Qualcomm
Ian Wong, Senior Manager Advanced Wireless Research Group, National Instruments
"While the hype surrounding 5G would make it seem like we are just days away from commercial deployments, there obviously remains years of work ahead in terms of fulfilling that promise," Meyer noted "Similar to past technology evolutions, there are sure to be hurdles and dead ends along the way, but with the continued focus on evolving 4G networks, those issues should be handled in stride."
About RCR Wireless News
Since 1982, RCR Wireless News has been providing wireless and mobile industry news, insights, and analysis to industry and enterprise professionals, decision makers, policy makers, analysts and investors. Our mission is to connect, globally and locally, mobile technology professionals and companies online, in person, and now on video. Our dedication to editorial excellence coupled with one of the industry's most comprehensive industry databases and digital networks leads readers and advertisers to consistently choose RCR Wireless News over other industry publications. http://www.rcrwireless.com