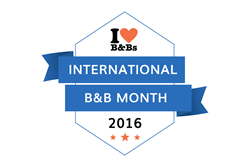 Travelers love staying in B&Bs largely because of the exceptional hospitality and service they enjoy from innkeepers.
Austin, Texas (PRWEB) October 03, 2016
Even though B&Bs and inns are one of the oldest types of lodging, they continue to attract visitors from around the world because of their charm, special amenities and, most importantly, personalized service from innkeepers who make guests feel at home. To celebrate innkeepers and their distinctive inns, BedandBreakfast.com is designating October as the first-ever International B&B Month.
To kick off International B&B Month, BedandBreakfast.com is introducing a new tagline: "Savor Your Stay." This slogan captures what travelers love about the B&B experience: the freedom to slow down and live in the moment. More than any other kind of lodging on earth, bed and breakfasts embody full, unhurried enjoyment and relaxation.
"We know, without a doubt, that travelers love staying in B&Bs largely because of the exceptional hospitality and service they enjoy from innkeepers," says Lisa Westlake Chen, general manager of BedandBreakfast.com. "International B&B Month is designed to shine a light on these individuals who work tirelessly to ensure their guests come back again and again."
Throughout October, travelers can enter to win $250 Getaway Gift Cards on the BedandBreakfast.com Facebook page. Each week, BedandBreakfast.com will invite travelers to share why they love staying at B&Bs and include #innlove with their entries. Randomly selected weekly winners will receive a $250 Getaway Gift Card, which is welcomed at 4,000 B&Bs throughout the U.S. and Canada.
Additionally, travelers will receive special International B&B Month gift bags when purchasing BedandBreakfast.com Getaway Gift Cards throughout October. The complimentary bags will include custom "I<3 B&B" magnets, bumper stickers and luggage tags so guests can show their love and support for B&Bs.
About BedandBreakfast.com
BedandBreakfast.com is the world's largest B&B travel site. With more than 10,000 properties worldwide and nearly 80,000 rooms, we help travelers discover and book unique small hotels, inns and B&Bs. The BedandBreakfast.com Getaway Gift Card is welcomed at nearly 4,000 B&Bs in the United States and Canada, with no restrictions or blackout dates. Based in Austin, Texas, BedandBreakfast.com was founded in 1995 and is owned by Expedia, Inc.