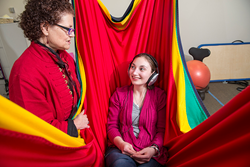 A growing body of scientific research suggests that the human brain remains capable of change and adaptation at any age.
Denver, CO (PRWEB) September 30, 2016
STAR Institute for Sensory Processing Disorder (SPD) announces that it has moved its new adult SPD treatment program into its own exclusive space at the world premier SPD treatment facility in Greenwood Village, Colorado. The new program serves adults suffering from Sensory Processing Disorder, which has been an underserved demographic in the field up until now.
Sensory Processing Disorder is most commonly diagnosed in children, but people who reach adulthood without treatment also may experience significant symptoms and continue to be affected by their inability to accurately and appropriately interpret sensory messages.
These "sensational adults" may have difficulty performing routines and activities involved in work, close relationships, and recreation. Because adults with SPD have struggled for most of their lives, they may also experience depression, underachievement, social isolation, and/or other secondary effects.
A growing body of scientific research suggests that the human brain remains capable of change and adaptation at any age. What this means for adults and older children with SPD is that they, too, can benefit from intervention for their sensory challenges. Dr. Lucy Jane Miller explains, "Many adults do well with evaluation and consultation for treatment. We do not put adults into the same equipment we use with children, but we provide the consultation they need to treat themselves."
Often adult treatment consists of a home program using equipment such as Interactive Metronome, Interactive Listening System, proprioceptive activities (resistive weight bearing), and other activities designed to raise the adult's threshold to sensation and normalize his/her reactions. Adults who have never before experienced heights, touch, or movement with comfort can become much more successful and happy during those activities.
This neurological disorder disrupts the way an individual processes and responds to sensations. Sensory Processing Disorder can affect people in only one sense–for example, just touch or just sight or just movement–or in multiple senses. One person with SPD may over-respond to touch sensation and find clothing, physical contact, other tactile sensory input to be unbearable and/or they may respond to visual or auditory or another sensory input. Another person might under-respond and show little or no reaction to stimulation, even pain or extreme hot and cold or just may be slow to respond to sensation.
To get treatment for SPD as an adult at the STAR Institute Treatment Center fill out an intake form here.
About STAR Institute for Sensory Processing Disorder:
The STAR Institute for Sensory Processing Disorder, a Colorado 501(c)(3), is the world leader in treatment, research, and education for Sensory Processing Disorder, a neurological condition that disrupts the daily lives of more than 4 million Americans. The STAR Institute is the premier treatment center for children, adults and families living with Sensory Processing Disorder, feeding disorders, and other sensory conditions associated with ADHD, autism, and other developmental disorders. Dr. Lucy Jane Miller, founder of STAR Institute, is widely recognized as the leader in Sensory Processing Disorder research worldwide. For more information about the Greenwood Village, Colorado clinic, visit http://www.spdSTAR.org or call 303-221-7827.