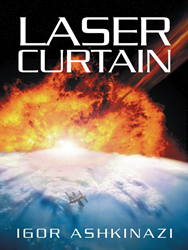 NEW YORK (PRWEB) October 03, 2016
An NYC-area pastor has just published his first book – a spiritual science fiction tale about the destruction of mankind through its own violence. Igor Ashkinazi's debut novel, "Laser Curtain," is an action-packed story about the salvation and rebirth of humanity through its acceptance of God, as well as an expression of passion for the U.S. in the face of international conflicts that mirror those of the modern world.
Written in 1982 in the author's Los Angeles-area apartment, Ashkinazi says that "Laser Curtain" came to him in a flash. Ashkinazi, who immigrated to the U.S. from Russia, wanted to express his love for the U.S. as well as show how violence that manifests itself in our own world can only lead to destruction.
"I wrote 'Laser Curtain' in the height of the Cold War era," the author said. "I was driven to write by some unstoppable inner desire. I did not realize it then, but this book was God's way of preparing me to meet him and find salvation in Jesus Christ."
The book describes a conflict reminiscent of the Cold War between the U.S. and Russia. As a last-resort attempt to save the U.S. from an impending Russian nuclear attack, the U.S. fires its secret weapon: The Laser Curtain. This results in the destruction of all mankind; however, a man and a woman are left behind to begin the world anew and to live by God's commands.
Ashkinazi offers a unique perspective on the nation's international relations as well as a riveting tale that will keep readers on the edge of their seats.
"Laser Curtain"
By Igor Ashkinazi
ISBN: 978-1-4908-2797-1 (hardback); 978-1-4908-2795-7 (paperback); 978-1-4908-2796-4 (electronic)
Available at the WestBow Press Online Bookstore, Barnes & Noble and Amazon
About the author
Igor Ashkinazi was born and raised in Russia and served in the Soviet Army during the Cold War era. He immigrated to the U.S. in 1975 and is an internationally recognized acrobatic gymnast. Ashkinazi is currently the senior pastor at several churches in the New York City-area and is married with three children. He resides in Wayne, New Jersey, where he is composing his next book.
###
Review Copies & Interview Requests:
LAVIDGE – Phoenix
Danielle Grobmeier
480-998-2600 x 614
dgrobmeier(at)lavidge(dot)com
General Inquiries:
LAVIDGE – Phoenix
Kalin Batts
480-998-2600 x 524
kbatts(at)lavidge(dot)com