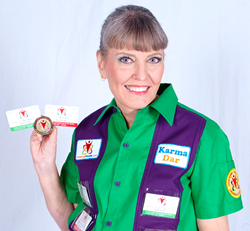 The purpose of the song is to encourage everyone to vote for change now.
Los Angeles, CA (PRWEB) October 11, 2016
Darlene Tipton is a karma expert and brand ambassador at AmazingKarma.com. She takes politics as seriously as she takes her unique social network based on Karma. Darlene, along with her husband Ken, founded AmazingKarma.com. They affectionately call themselves Karma Dar and Karma Ken. AmazingKarma.com is proud to announce the release of a new song written by Ken called "We Need a New Congress."
When it comes to political Karma, Karma Dar wants to draw attention to what some believe to be the "worst Congress ever." A 40-year veteran in Hollywood and former executive at Fox TV, Karma Dar is passionate about inspiring individuals, companies, and government to do the right thing. In the case of the current Congress, that means simply doing the job they were elected to do.
Karma Dar has fired up her Karmometer© to evaluate the Karma Quotient (KQ) of the current Congress. KQ is a cumulative assessment of the past eight years during which Congress has done very little to help the nation while doing everything possible to bring government to the lowest approval rating ever.
"The purpose of the song is to encourage everyone to vote for change now," says Karma Dar.
So how do the current presidential candidates rate on Karma Dar's Karmometer©, which rates a person's KQ from a +10 to a -10? Karma Dar points out that "…both Hillary Clinton and Donald Trump rate a solid 9.9. However, Mr. Trump's KQ is a negative -9.9 rating while Madam Secretary has a well-deserved positive KQ. Karma has its sights set on Trump and Congress. Let the universal payback begin."
About AmazingKarma.com
This niche social website is based on the non-religious concept of "What Goes Around, Comes Around." Good Karma comes from simply doing the right thing. Own your actions, make amends, then move ahead. Amazing Karma acknowledges acts of kindness, courtesy, and honesty with Green Karma Cards while exposing acts of unkindness, discourtesy, and dishonesty through the use of Red Karma Cards. For a limited time, Karma Cards are free, including shipping and handling. For more information visit http://www.amazingkarma.com.
Media Contact:
Darlene Tipton
Karma(at)amazingkarma(dot)com
(818) 648-4903