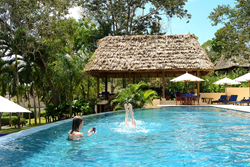 they'll arrive home relaxed, rejuvenated and ready for the new post election world
San Ignacio, Belize (PRWEB) October 05, 2016
The US Presidential Election of 2016 may well go down as one of the most gruelling political contests in history, and The Lodge at Chaa Creek is responding by offering a specially discounted all-inclusive Belize vacation package to help voters unwind after the dust has settled, according to the Belizean eco-resort.
Chaa Creek co-founding owner Lucy Fleming was announcing a new, all-inclusive Belize vacation package specifically designed to help voters unwind after the rigours of the 2016 US presidential election.
"We appreciate that whether their candidates have won or lost, many people will wake up after November 8 physically, mentally and emotionally drained. With so much at stake, and emotions running high, that's very understandable," she said.
But fortunately, Ms Fleming explained, there's a cure for what she called the post ballot box blues.
"It's a condition that's very treatable, we feel, by taking a few days off to unwind in a tranquil natural setting, enjoying swimming and other fresh air activities while being pampered with scrumptious dining and friendly service," she said.
"Our 'Post Election Relaxation Vacation' is limited time, all-inclusive Belize vacation package that includes everything for a complete eco-luxe vacation for one surprisingly affordable price."
Ms Fleming said that the minimum three-day vacation, offered from November 10 to December 10, 2016, includes everything from rainforest accommodation, all meals in Chaa Creek's acclaimed Mariposa restaurant, a full menu of activities and access to all amenities within the eco-resort's private 400-acre private nature reserve.
"We asked our team of adventure specialists to come up with a way to help people relax after such an exciting, important event, and they developed a cure based on swimming, dining, and enjoying healthy activities in a serene jungle environment as a way to get back in shape," she said.
Ms Fleming said that in addition to eco-luxe lodging and fine dining, the Post Election Relaxation Vacation includes enjoyment of amenities such as an infinity pool and guided tours of the onsite Belize Natural History museum, giant Blue Morpho butterfly farm and Maya Medicinal Plant Trail, as well as hiking,horseback and mountain bike riding along the well-maintained jungle trail network, canoeing down the Macal River, the popular "Creatures of the Night" excursion and early morning bird identification walks conducted by licenced naturalist guides, and other activities. Horseback riding may be exchanged for jungle serenade treatments at the internationally recognised Hilltop Spa, she said.
"The point is to create an environment where people have a lot of options to unwind and plenty of time to relax. Lounging around the infinity pool or in a hammock on your private veranda with a good book and a cold drink far away from televised election coverage may be just the thing, and we assure guests that our staff and bartenders will refrain from political commentary.
"I'm sure that replacing political chatter with that coming from tropical birds and monkeys will be a welcome change for most people," she said.
Ms Fleming added that while Chaa Creek, known as Belize's "Destination within a Destination" due to its onsite amenities, wide range of tours and all-inclusive Belize vacation packages and nationwide network of colleagues, is always able to offer vacations that are surprisingly affordable, the Post Election Relaxation Vacation has been even further discounted.
"We wanted to offer a vacation that is both affordable and stress-free. From the moment we pick guests up at Belize's international airport until we drop them back off, they are completely looked after, with nothing else to plan or pay for, meaning there are no unwanted credit card surprises when they return home.
"And they'll arrive home relaxed, rejuvenated and ready for the new post election world, watching the inauguration ceremonies tanned, healthy and with a smiles on their faces.
"We can't think of a better way to welcome in a new president and New Year," Ms Fleming said, adding that bookings for the Post Election Relaxation Vacation may be made through travel agents or by contacting Chaa Creek directly.
The Lodge at Chaa Creek is a multi award winning eco resort set within a 400-acre private nature reserve along the banks of the Macal River in Belize.
ENDS