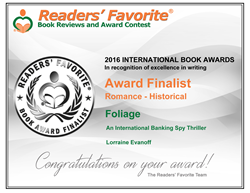 "When the right books are picked as winners we pay attention. We will be spreading the word about Readers' Favorite." --Karen A., Editor for Random House Publishing
Los Angeles, CA (PRWEB) October 03, 2016
Readers' Favorite has become the fastest growing book review and award contest site on the Internet. They have earned the respect of renowned publishers like Random House, Simon & Schuster, and Harper Collins, and have received the "Best Websites for Authors" and "Honoring Excellence" awards from the Association of Independent Authors. They are also fully accredited by the BBB (A+ rating), which is a rarity among Book Review and Book Award Contest companies.
In addition to reviewing for some of the biggest names in the literary industry, as well as the first time independent author, they host a respected award contest which features entries from new authors to NYT best-sellers, as well as celebrities like Jim Carrey and Henry Winkler.
"Readers' Favorite is proud to announce that "Foliage" by Lorraine Evanoff is a Finalist in the Romance - Historical category in our 2016 International Book Award Contest."
"Foliage" is a deft mix of spy thriller and romance set against a backdrop of real events, namely the 1991 collapse of the Bank of Credit and Commerce International (BCCI), the first of the recent wave of big financial scandals. The protagonist, Louise Moscow, is a sexy, smart, likable heroine who finds herself enmeshed in the shadowy world of high finance and international espionage. Code word: FOLIAGE! – Robina Gibb, LA-based Writer and Journalist
Lorraine Evanoff has over twenty years of finance industry experience in Paris and Los Angeles, notably as CFO of National Lampoon and other film companies. She also worked in Silicon Valley during the dot.com era. Lorraine and her husband reside in LA where she is writing her second novel and has a script in development.
Learn more at https://readersfavorite.com/book-review/foliage
Discover Hollywood Magazine Summer 2016 Editor's Pick: http://tinyurl.com/hkcmnsp
"Ms. Evanoff has written an incredibly timely book, especially given the release of the Panama Papers and the exposure of corruption within the banking and financial services industries. The book is a wonderful combination of non-fiction and fiction, with a heroine who is smart, beautiful, spiritual, and complex. – Simon Levy, Director, Writer, Producer, Fountain Theatre, Los Angeles