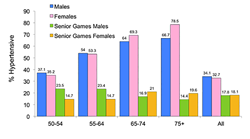 We learned that there is a direct correlation between an active lifestyle and hypertension
St. George, Utah (PRWEB) October 03, 2016
A study of age-related hypertension in athletes participating in the 2015 Huntsman World Senior Games was recently released by Brigham Young University and Utah Valley University.
A total of 1099 men and women 50 years old and above from across the United States participated in the study. There were 607 participants who were male and 492 who were female. Each individual's blood pressure was assessed using an Omron HEM-780 automated blood pressure monitor. For study purposes participants were grouped in 5-year increments.
"In Westernized cultures as people age we tend to see an increase in the percentage of individuals experiencing hypertension or high blood pressure," said Dr. Gary Measom of Utah Valley University. "We wanted to know how an active lifestyle affected that trend."
The study found that while the general populations saw dramatic growth in the percentage of individuals with hypertension as they aged, Huntsman World Senior Games athletes stayed basically consistent.
"We learned that there is a direct correlation between an active lifestyle and hypertension," said Dr. Ron Hager of Brigham Young University. "The risk of hypertension is reduced by half in the aggregate for both male and female."
More than a dozen helpful health screenings are available to Huntsman World Senior Games athletes as part of their registration. The screenings take place October 5 - 7 and October 11 - 13.
The Huntsman World Senior Games is the world's largest annual multi-sport event for athletes age 50 and better. The annual event takes place every October in St. George, Utah, and welcomes more than 11,000 athletes who choose to compete in 30 different sports. The Games were founded on the principles of fostering worldwide peace, health and friendship, goals that continue through today. For more information on the Games, visit http://www.seniorgames.net.