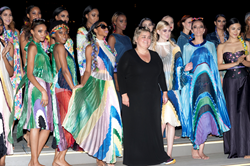 There are so many talented designers overseas who need a chance to show their talents to the US fashion industry which they can do though The Journey. Malena Belafonte
New York, NY (PRWEB) October 03, 2016
In an upbeat but relaxed and elegant atmosphere The Journey Fashion Festival, conceived by Malena Belafonte, closed fashion week with a crescendo of her feminine, sexy, gorgeous handmade gowns. "We live the way we love" is Makany Marta's motto, which is derived from the designer's roots. The Hungarian heritage is a melting pot of different nations and traditions, making for a very expressive culture which is deeply reflected in Makany Marta's style. The common thread is sincere femininity intertwined with sexy undertones.
Pharuno Printemps, which means Silk Spring in gypsy, sets up the narrative for this luxurious gypsy inspired SS 17 collection, which has 4 different but related lines. Floral patterned silk and lace dresses were inspired by the beautiful gardens of Sissy, queen of the Austro-Hungarian Monarchy, made of fabrics personally designed by Makany Marta. Peacock feather patterned skirts made of organza were uniquely manufactured fold by fold with a special hand pleating method. The skirts, with special appliqué and unexpected color combinations, are outstanding pieces of this collection. Spectacular Neon lace dresses and palazzo pants are a throwback to the glorious days of the Cote d'Azure and the decadent, fabulous lifestyles of the 60's and 70's celebrities. Opaque tulle gowns balancing between dreams and reality, transparent, yet not, make women shine bright on every special occasion and beyond.
The capacity crowd viewed the collections by Makany Marta in a new and innovative show format indicative of why Malena Belafonte's THE JOURNEY FASHION FESTIVAL was conceived. A platform that combines diversity and accessibility for established international designers, giving them a high profile presence during Fashion Week in NY and additional markets. Makany Marta will be showing her 4 collections during Paris Fashion Week at Vendome Luxury before coming back State side to premiere her luxury bridal collection during New York International Bridal Week at The Piers.
Please email for more information or any further requests regarding The Journey.
pinkpirateagency(at)gmail(dot)com