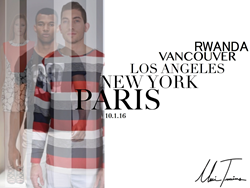 New York, NY (PRWEB) October 03, 2016
The multi-talented Uwi Twins' journey took them from their African roots to Vancouver, Los Angeles, New York and now to Paris; a beautiful narrative for what influenced their SS '17 collection. The Parisian Street-wear inspired collection will be shown in the heart of Paris to the international fashion industry. The young designing duo who escaped the Rwandan genocide in 1994 has now reached a new level within the fashion business and will be showcasing their unique line, inspired by European fashion, combined with their personal French influence and African roots among the best.
These gifted and upcoming designers have caught the eye of buyers internationally. Their journey has been that of dreams becoming reality, which is a true inspiration to the Millennial and beyond. Their success is a shining example of why Malena Belafonte's The Journey Fashion Festival was conceived—a platform that combines diversity and accessibility for established and emerging domestic and international designers, giving them a high profile presence during Fashion Week in NY and additional markets, in a new and innovative format. The Uwi Twins Collections for men and women were shown on a multi-tier runway at Mercedes Club during The Journey Fashion Festival on the closing night of New York Fashion Week. The at capacity audience enjoyed performances from members of Stomp, world champion dancers and international DJs.
Please email pinkpirateagency(at)gmail(dot)com for more information or any further requests regarding UWI TWINS and The Journey.