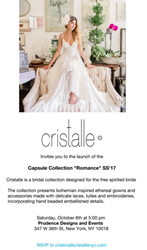 It is time for the U.S. to experience all the many talented designers that I have worked with throughout my career in fashion and showbiz... we don't just give them a presence during Fashion Week, we also give them a sales platform. Malena Belafonte
New York, NY (PRWEB) October 03, 2016
Cristalle caters to the millennial bride who isn't afraid to push the envelope, stay true to herself, and be unique on her big day. Cristalle was founded in New York City by two South American designers, Ecuadorian Cristina Marulanda and Argentinian Alejandro Trucco who met while working at Fioridi Zucca 15 years ago. Originally an architect, Alejandro turned his design talents into a careers working for prestigious fashion houses such as Oscar de la Renta, Perri Ellis, and Donna Karan. Cristina's accomplishments in styling and sales led her to design a collection of high end handbags called Letica which marries practicality and organization with elegance, turning a traditional cosmetic bag into a purse or a clutch. The two accomplished friends have now entered into a partnership creating the beautiful, romantic bridal collection Cristalle that premiered during The Journey Fashion Festival at Mercedes Club on the last day of New York's Fashion Week.
The beautiful show, stood out with a finale that included acid attach surviver Monica Singh dressed as a bride in a beautiful cream wedding gown, walking the 3 minute long runway with pride, giving hope to victims of domestic abuse worldwide. A beautiful example of the diverse Fashion Platform that Malena Belafonte has created for emerging and established international designers.
Cristina Marulanda and Alejandro Trucco will host the launch of the Capsule Collection "Romance" SS'17 on October 8th at 6:00pm at Prudence Designs and Events, 347 W 36th St, New York, NY 10018.
Please email Pink Pirate Agency for more information or any further requests.