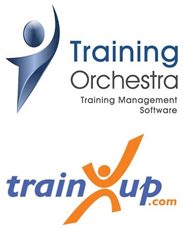 Chicago, IL (PRWEB) October 04, 2016
Training Orchestra, the global leader in Training Management Software designed to optimize processes and resources, track key performance indicators, and provide detailed reporting and analytics has joined with TrainUp.com, the web's largest training marketplace which includes more than 300,000 instructor-led training events and 7,000 online courses to provide the first All-In-One toolbox for training providers to enhance their visibility and provide quality training for corporate HR departments and individuals. This product bundle was announced at the 19th annual HR Technology Conference and Exposition being held October 4-7 at McCormick Place in Chicago.
Designed for small and medium size training providers, Website + Marketing + Back Office is a combination of the internet marketing expertise of TrainUp.com and the power of the Training Orchestra Training Management System. As an affordable and effective turnkey solution, training providers are able to manage their entire administrative and sales processes while delivering more training. They will receive enterprise level training administration including order processing, accounting, schedule management, and resource and instructor management. Courses are promoted via TrainUp.com to help increase fill rates and training providers will stand out with a fast, attractive and easy to configure website.
"TrainUp.com has built an incredible internet marketing infrastructure, they are the Uber of the training world. This All-In-One bundle with our training management system is the democratization of technology for training entrepreneurs and we are proud to work with TrainUp.com to deliver this solution to the industry," said Stéphane Pineau, CEO, Training Orchestra.
"No one has the depth and breadth of training management capabilities that Training Orchestra brings to the table. Where many providers in our network are smaller organizations now, with Training Orchestra, we have enabled a cost-effective way for them to leverage existing technologies to enhance their exposure in the market and manage their operations; which altogether equips them to focus on what they do best. This is a win for the whole industry," said Jeremy Tillman, Founder & CEO, TrainUp.com.
Large training providers have the scale to build, deliver and manage training as well as handle the business operations and marketing. Smaller providers, who are experts in their field and provide excellent training, may not have the business infrastructure to market and manage their offerings in order to reach a maximum potential audience. Website + Marketing + Back Office, powered by two of the leaders in the training industry, provides just that scale and allows these providers to focus on delivering impactful training, including:
Website: SaaS-hosted, SEO-optimized, professional website with support for online content & ILT.
Marketing Services: Courses are automatically available for purchase at TrainUp.com, the web's largest training marketplace with email marketing support and digital marketing services.
Back Office: Robust Training Management System, powered by Training Orchestra with course schedule management, instructor and resource optimization, financial management, robust reporting and more.
About Training Orchestra
As a leader in Training Management Software (TMS) Training Orchestra provides the most complete ERP dedicated to training organizations. With a back-end system covering the entire training process (logistics, administrative, finance, and sales) Training Orchestra helps corporate training departments "train more with less" and training companies increase their profitability.
While optimized for managing Instructor Led Training, Training Orchestra can easily complete an LMS and provide a full end-to-end management solution to drive training activities, optimize scheduling, track budgets, and enhance productivity and customer loyalty. Training Orchestra has proven its efficiency worldwide with over 250 satisfied clients, one million users, and $1.5 billion of training budgets managed. Additional information is available at http://www.training-orchestra.com/en/.
About TrainUp.com
TrainUp.com offers one-stop shopping for all of your career development and business training needs; from instructor-led classroom seminars, virtual webinars to online e-learning continuing education in over 200 training verticals. Like other popular online marketplaces, TrainUp.com saves time and provides better quality results compared to traditional training search methods. TrainUp has helped coordinate instructor-led, online or on-site training for individuals in over 40,000 companies including over half of the fortune 500.
TrainUp also specializes in creating custom learning, performance and talent management solutions. TrainUp has developed custom technology and training solutions to build, track and manage training for organizations of all sizes. TrainUp.com's mission is to help individuals, corporations and organizations of all sizes achieve their training, developmental and talent management goals by leveraging TrainUp.com's technology solutions, training resell portal, and management services.
Tillman Learning LLC, d.b.a. TrainUp.com is a certified minority owned and Texas HUB certified business with offices at 4500 Eldorado Pkwy Suite 3200 McKinney TX 75070. Additional information is available at http://www.trainup.com.
Training Orchestra contact:
Peter Olyarchuk
Phone: +1 864-663-3400
Email: p.olyarchuk(at)training-orchestra(dot)com
TrainUp.com contact:
Jeremy Tillman
Phone: +1 866-540-9677
Email: jtillman(at)trainup(dot)com
###