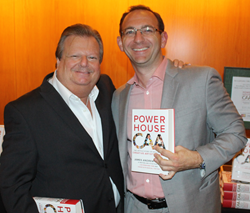 (PRWEB) October 03, 2016
The Levin Agency http://levintalent.com/ is celebrating the opening of its New York office and 30 year anniversary with a night to remember at the iconic Sardi's in New York City on Saturday October 8th.
TLA was founded by Sid Levin in 1985. From raw talent to proven character actors, TLA has represented thousands of actors and actresses through more than three decades of film, television and theater production.
"As someone who grew up with an excitement for this industry, I am very proud to be able to expand our agency and its quality, integrity and diversity to New York," says legendary agent, Sid Levin.
TLA has grown exponentially since partnering with Don Cisternino of MagnifiCo Inc., whose global network ranges from finance and venture capital to, technology, legal, real estate, and fashion.
"It is amazing to see the growth that has already emerged from this partnership with Levin and his agency within the past year. The opening of our New York office has been an amazing accomplishment," says Don Cisternino.
The Levin Agency is more than a talent agency. They are dedicated to providing guidance; coaching, seminars and group lectures to give the attention and support their clients need to flourish as actors in the intimidating world of showbiz. The addition of a New York office will create more opportunity for individuals to reap the rewards of a boutique agency with a global reach.