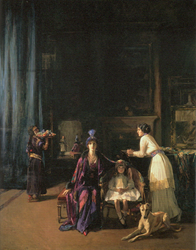 The music, selected to counterpoint the stunning imagery and the evocative script, is delivered through voice and instrument that evoke the personality of Hazel Lavery and the torment of the times.
New York, NY (PRWEB) October 05, 2016
Based on the untold story of Lady Hazel Lavery, a Chicago-born artist, social diplomat, and wife of famous painter Sir John Lavery, "Hazel: Made in Belfast" reveals the story of how this remarkable woman- a pivotal force and central figure in the achievement of Irish Independence in 1921- helped negotiate the Anglo-Irish talks involving Michael Collins, David Lloyd George, and Winston Churchill. Co-produced by New York artist Gregory de la Haba and Irish poet and pianist Terence Browne, the musical narrative will make its world premiere on Sunday, October 16th, 2016 at Weill Recital Hall at Carnegie Hall.
The performance will feature arrangements of a selection of Irish airs from the Belfast Harp Festival (1792). Thomas Moore's Irish Melodies, form the melodic context and framework for tale about Hazel's undeniable impact on the establishment of the two Irelands. Award-winning Irish soprano, Sarah Power will make her New York debut accompanied by Dublin Symphony Orchestra's lead violinist Aveen McEntee, and Terence Browne on piano. Gregory de la Haba narrates the historical romantic tale.
Following the 1916 Irish Easter Uprising, Sir John Lavery was commissioned by Justice Darling to capture the trial of Irish Revolutionary Sir Roger Casement who was being tried for High Treason in London's Court of Criminal Appeal. Lady Hazel sat by her husband throughout the trial and resolved there and then to do all in her power to reconcile Ireland and England and to put an end to the seven hundred year conflict.
In the months that followed, Hazel invited both the Irish and English revolutionaries, ministers, and heads of state to sit to have their portraits done in Lavery's studio in London with the express purpose of using the time in the studio to persuade these high-powered men to agree to a common set of goals for Ireland. Hazel's intelligence and beauty inspired the confidence and admiration of Winston Churchill, Prime Ministers Ramsay McDonald and David Lloyd George, Irish Minister for Justice Kevin O'Higgins, and Irish revolutionary leader Michael Collins. In fact, she was so persuasive and influential that on the evening of December 5, 1921, Hazel drove Michael Collins from her husband's studio to Downing Street, where he signed the Treaty which provided Southern Ireland's independence and established Northern Ireland with its own parliament within the United Kingdom.
Although Sir John Lavery's portrait of Hazel- as the personification of Ireland- graced the Irish banknote from 1927 through the 1970s, historians have all but erased her from the narrative of Ireland's achievement of Independence, and the establishment of Northern Ireland. Sinead McCoole's 1996 biography entitled Hazel – "A Life of Lady Lavery" (Lilliput Press) rekindled interest in her story, and now, 20 years after the release of the biography and on the centennial anniversary of the Easter Uprising, Hazel's story will be told to an international audience with the world premier of "Hazel: Made in Belfast."
HAZEL: MADE IN BELFAST
Sunday, October 16th, 7:30pm
Weill Recital Hall at Carnegie Hall
Nr. 154 West 57th Street, New York, NY
TICKETS: $55-$100 / Call CarnegieCharge: 212-247-7800; purchase online; or visit the Box Office at 57th Street and Seventh Avenue
For More Information, Visit: http://www.ladyhazellavery.com