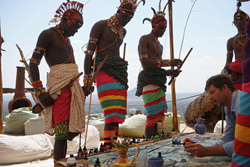 Beard shares a deep interest in science, mathematics and history, to go along with a deep knowledge of classical aesthetics and form. Work is a byproduct of life, and life a function of work. They inform and propel each other, in an ever-expanding spiral.
New York, NY (PRWEB) October 18, 2016
"On Camel Safari"- on view at New York's George Billis Gallery from October 29th through November 6th- presents over 15 new drawings and paintings by the abstract wildlife painter Alex Beard. This solo show includes Beard's most intricate work on paper to date, created while he was immersed in the natural beauty of Northern Kenya with the Mokogodo Maasai. The centerpiece of the exhibition- and title of the New York show- is a rich and complex work that explores themes of cultural and environmental connectivity in which abstraction and figuration collide.
Beard spent this past summer trekking on camel safari through Kenya from the Northern end of LEWA to Lekurruki along the Ngare Ndare River, exploring the wildlife and it's environment- both of which face continual danger from human and environmental threats. Drawing inspiration from the animals, landscape, and the colors around him, Beard spent hours working and reworking the expansive composition throughout his journey across the remote African plains. The title work is "representative of both the mindset and pace of the environment as well as what I saw, experienced and did," reveals the artist.
As with each of his works, "On Camel Safari", began with a simple gesture. In this instance, the gesture is the representation of the Ngare Ndare River itself. The pattern of the animals and overlapping lines create a "collage" that emphasizes the circle of life and highlights our universal collective interconnectedness and the joys found in nature.
The notion of interconnectivity is a common thread in Alex's life and work as a painter, conservationist and author. His recently released monograph published by Glitterati, "A Brush with Nature," showcases an arresting collection of paintings and works on paper. Award-winning writer Nick Paumgarten, summarizes the work, "Beard's paintings and drawing convey wonder, inspire delight and, one hopes, enlist all of us in the monumental task of protecting this wilderness and its inhabitants, humans or otherwise, from our baser instincts and more diabolical schemes."
"Part of my responsibility is to turn what I do into a campaign to raise awareness and money to help keep the integrity of the environment which I care so much about intact," says Beard. "It is paramount that I do what I can to save what I can." It is for this very reason that he reinvests a portion of the proceeds from art and book sales into conservation efforts both locally and in Kenya.
ABOUT THE ARTIST
American painter and author Alex Beard is best known for his elaborate wildlife compositions created in his signature style of gestural painting, which he calls "Abstract Naturalism." His travels and exposure to the diverse cultures, colors, and climates of Africa, India, China, the Americas, and Australia have had a profound impact on both his professional and artistic practice.
Beard comes from a long line of philanthropists, artists, and entrepreneurs. He was inspired by the grass-roots politics of his father Sam Beard, who – together with Jackie Kennedy Onassis and U.S. Senator Robert Taft, Jr.- founded the Jefferson Awards for Public Service, by his mother- author and a former magazine editor, Patricia Beard, and by his uncle- acclaimed wildlife photographer Peter Beard, who first exposed Alex to Kenya and its majestic wildlife. Alex established the Watering Hole Foundation in 2012 to raise awareness and funds to help support endangered wildlife and preserve the Earth's remaining wilderness.
"Drawing the Line", Beard's documentary, chronicles the plight of the endangered Wild African Elephant and fuses his artistic talent with his dedication to preservation. In addition to producing a series of short films, he has authored and illustrated a critically acclaimed trilogy of storybooks published by Abrams: Tales from the Watering Hole, includes "The Jungle Grapevine" (2008), "Monkey See Monkey Draw" (2009), and "Crocodile Tears" (2010).
Beard lives and works in New Orleans and his work figures prominently in several private and public collections around the globe. He has exhibited extensively throughout the United States and overseas, including solo exhibitions in New York, Los Angeles, New Orleans, and Hong Kong.
EXHIBITION and BOOK RELEASE DETAILS
ALEX BEARD: ON CAMEL SAFARI
George Billis Gallery
525 West 26th Street, New York, NY 10011
Opening & Book Signing: Saturday, October 29, 7pm – 10pm
Exhibition: Sunday, October 30 and Monday, October 31 by appointment;
Tuesday, November 1 - Sunday, November 6, 10am – 6pm