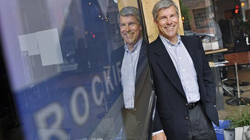 This new program helps corporations to analyze their innovation and R&D efforts and develop programs optimized to their needs using a unique "scaling down" approach.
Denver, CO (PRWEB) October 17, 2016
Large international companies are having trouble keeping up with the pace of innovation. Rockies Venture Club (RVC) is excited to announce a corporate innovation education program in partnership with one of Japan's most prestigious early stage venture capital firm, Future Venture Capital (FVC).
The Corporate Innovation HyperAccelerator builds upon RVC's entrepreneur-driven HyperAccelerator program, but focuses on the innovation needs of large corporations.
Large international corporations that tend to have extremely efficient and controlled systems and processes that allow them to operate at scale. While these systems are important, they can kill new innovation projects and corporations are increasingly seeking more effective ways to create sustainable and rapid paced innovation programs based on accelerator and corporate venture capital models. Using these techniques provides a repeatable and reproducible way to maintain their leadership position and continue to grow in globally competitive markets.
This new program helps corporations to analyze their innovation and R&D efforts and develop programs optimized to their needs using a unique "scaling down" approach that maximizes success by providing the key resources and methods that venture capital backed startups use to launch new businesses. Program participants develop innovation strategies through a mentor driven program focused on rapid growth and strategic development.
Rockies Venture Club, and it's education arm, The Rockies Venture Institute,is the largest angel investor network in Colorado with five chapters in (Denver, Boulder, Fort Collins, Colorado Springs, and Centennial) and is also the nation's longest operating group of its kind for over 31 years. Future Venture Capital Co., Ltd. is one of the only three publicly traded venture capital investment companies in Japan with more than $200M USD equivalent in assets under management.
FVC is a unique venture capital firm because not only does it care about the benefit to the investors and the portfolio companies as many other venture capital firms do, but it is also concerned about societal impact. FVC has several regional offices in Japan and each office has a mission to contribute to the development of the local and regional economy through growth of venture companies.
"RVC has spent years helping startups to grow up fast by teaching how large corporations are structured to operate at scale." says Peter Adams, Executive Director of RVC and HyperAccelerator creator. "It's great to be able to take the curriculum in the other direction and help large corporations run effective innovation programs by using proven processes of startup strategy,"
"Many successful and established corporations in Japan is starting an 'Open Innovation' programs to fuel the growth.", says Chief Strategy Officer of FVC, Yuji Fujinaga, leading international operations at FVC. Mr. Fujinaga continues ". We believe high quality programs like RVC's new Corporate Innovation HyperAccelerator are beneficial to entrepreneurs in Japan as well as corporations based in Japan seeking to enhance internal innovative and entrepreneurial culture."
"The program was developed by RVC for FVC's corporate clients in Japan, and will also be offered to both Japanese and U.S. corporations in the United States who are looking to enhance their internal innovation programs.", according to Denichiro "Denny" Otsuga, Director of Venture Community Development with RVC, a Japanese native who has brokered this deal following the previously announced license agreement between RVC and FVC on the HyperAccelerator for entrepreneurs. Otsuga continues that "Innovation is the strongest common currency in the world market now that can cross the geopolitical boundaries. Corporate Innovation HyperAccelerator program being deployed in US and Japan illustrates how innovation is becoming borderless."
About FVC:
Future Venture Capital Co., Ltd. (FVC) is a publicly traded venture capital investment company in Japan on the Tokyo Stock Exchange's JASDAQ market (Code: 8462) founded in 1998. FVC has invested in over 350 deals since its inception and currently manages more than 20 funds totaling approximately $200M USD in assets. FVC often invests in early stage deals and as the lead investor.
About RVC:
Rockies Venture Club, Inc. (RVC) is a non-profit corporation based in Denver, Colorado, founded in 1985. RVC companies have received over $30 million in funding since 2012. The RVC holds over one hundred events every year including their signature Angel Capital Summit and Colorado Capital Conferences, the Summer PitchFest, Colorado Life Science Night and the Impact Investing Conference. RVC offers venture capital training for angel investors and entrepreneurs alike, including their signature HyperAccelerator program based on an intensive mentor driven six day program.