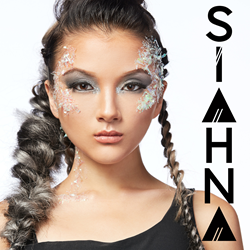 A cinematicmasterpiece where the quality holds it's own against national videos like Taylor Swift's Bad Blood orTwenty One Pilots Heathens. Young females will surely identify with Siahna, a 17 year old petitepowerhouse who is wise beyond her years!"
Seattle, WA (PRWEB) October 05, 2016
Seattle native Siahna's debut single "Warrior" is available now on iTunes and other digital outlets. The Single is released by local record label Arena Music with an EP to follow.
Siahna first received recognition for her time on Season 9 of The Voice. As part of Team Pharrell, the sixteen year old was praised for her strong vocals and her performances on the show have garnered just shy of 8 million views on YouTube.
Although best known for her time on The Voice, her love of music began in the third grade when she was introduced to soul music through a video featuring Ray Charles. A go-getter, Siahna has dedicated her life to her passion of music having achieved local success performing around her hometown of Seattle where she caught the eye and ear of Seattle based label Arena Music who recently signed to produce and release her first debut EP.
"Warrior" is already poised to be a hit. The single is mixed by Joe Zook, who has worked with One Republic, Katy Perry, and U2, and mastered by the Grammy winning Eric Boulanger. 2007 EMA MTV Nominee, Yakup Trana, produced the EP, which was recorded between Avast Recording Studio and Robert Lang's Studio where the likes of Foo Fighters, Nirvana, and Death Cab for Cutie have cut many hit records.
Siahna possesses all the qualities a fan of Indie Pop could want in an artist. A rich, soulful voice with loads of texture, heartfelt, deeply personal lyrics, wrapped and delivered in a bright, relatable, amiable stage presence. Veteran writer-producer Yakup Trana clearly recognized this when he signed the rising star to Arena Music.
Robin Fairbanks of Seattle Music Insider describes the "Warrior" video (YouTube) as "A cinematic masterpiece where the quality holds it's own against national videos like Taylor Swift's Bad Blood or Twenty One Pilots Heathens. Young females will surely identify with Siahna, a 17 year old petite powerhouse who is wise beyond her years!"
For interview, appearance requests, or for further information, contact:
Yakup Trana at: yakup(at)arenamusicpromotion(dot)com
Arena Music is a boutique record label focusing on new talent and headquartered in Seattle.
http://www.arenamusicpromotion.com