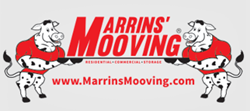 Morrisville, NC (PRWEB) October 03, 2016
Marrins' Moving (https://marrinsmoving.com) is pleased to offer residential and commercial moving services in North Carolina, including Apex, Durham, Cary, Chapel Hill, Raleigh, Holly Spring, Wake Forest and Morrisville.
"Marrins' Moving is proud to offer its customers a unique, personalized level of service that specifically caters to the needs of every single family and businesses they serve," says company President Josh Oliver. "Marrins' Moving wants to ensure your entire moving process as simple, affordable, and as stress-free as possible. Simply put, we are movers you can trust!"
North Carolina residents and companies in need of an experienced moving company will be pleased to know that Marrins' holds an enviable 4.5 stars out of 5 on Yelp, with satisfied clients raving about their "first class experience", "as-quoted service," "smoothest move ever had," and "professional service."
From its easy-to-use online quote form to its specialized white glove service for life science and research facilities, Marrins' Moving looks forward to showing North Caroline the difference experienced, quality movers can make.
For a stress-free move with no surprises on the quote, please visit marrinsmoving.com/moving-services
About Marrins' Moving
Marrins' Moving was created in 1997 to provide a company within the North Carolina moving industry that could be relied on for superior service and support. As a company that supports veterans, Marrins' offers free on-site assessments to those that have provided military service. Aiming to rise above the competition by providing excellent, trustworthy service, Marrins' has garnered an excellent reputation in Apex, Durham, Cary, Chapel Hill, Raleigh, Holly Spring, Wake Forest, Morrisville – and all across North Carolina.
Contact Details:
Marrins' Moving
Morrisville, NC 27560
Phone: 919-469-1488
Source: Marrins' Moving
###