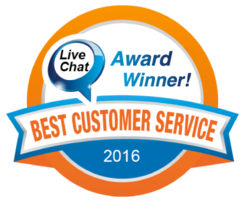 Haymarket, VA (PRWEB) October 05, 2016
Besides changing leaves, a nip in the morning air and pumpkin spice latte at Starbucks, the first week in October heralds Customer Service Week. In one study, people cited customer service as the top influencing factor for establishing trust in a brand. Excellence in customer service has always been a top priority at bloomstoday.com. This translates not only in excellent online, chat or telephone experience, but also to positive results of having fresh, beautiful flowers delivered on the same day or next day from receiving the order just as instructed.
The order experience is enhanced with a Live Chat feature that has already received accolades. The Live Help Best Customer Service Award is given for exceeding customer expectations in responsiveness, effective communication and helpfulness. All bloomstoday.com customer service representatives have extensive training in floral arrangements, greenery, flowers, containers and even the symbolism and emotion that different blossoms can convey. They are well-trained, compassionate, knowledgeable, patient and intelligent. You deal with a real person with a pulse in the U.S.A. every time you call or live chat, and that may be one of many reasons for bloomstoday.com's success in a highly competitive industry. The bloomstoday.com chat forum has received Live Help's award for Best Customer Service. Out of 10,000 companies considered in the chat challenge metrics, bloomstoday.com's service level was found to be exceptional.
The delivery component of the experience is guaranteed to be beautiful, colorful or monochromatic, as you specify, fresh, long-lasting flowers which arrive in the vase, basket or creative container of your choice. Partnerships with FTD, Teleflora and 1-800-FLOWERS provide a network of stellar florists all over the country. Floral arrangements are delivered every day to houses, offices, condos, hospitals, funeral homes, medical centers, apartments, dorm rooms and work places across the spectrum. You can only imagine the smile, the thrill of discovery that the flowers which just arrived are for your loved one. A handwritten little card accompanies every bouquet, and you can be assured with the final click of the mouse or phone or live chat that your beautiful, fresh flower bouquet will be assembled and delivered with professional care and competence.
Customer service is a tangible value of the buying experience, and bloomtoday.com excels in radiating emotion, trust and credibility in the ordering session as well as the best, prettiest, most wonderful, fresh flowers to brighten someone's day, week and life at the moment they arrive. Every person, every order, even every flower is handled with respect and sensitivity. A company without customers ceases, and at bloomstoday.com, customer value and satisfaction are embraced at every level. Every person ordering flowers is important, and every customer service agent values their time answering questions and assisting people, especially with appropriate sympathy, get well and romance bouquets.
The entire bloomstoday.com team treasures every client, every order, every flower, every handwritten note, every delivery ~ every day, 24/7. Keys to success always include stellar customer service, because people are real. "We are not just a floral business, but a provider of sentimental expression," states co-founder George Dukas whose family has more than a century in the floral business. "We prepare and send messages of love, gratitude, praise, condolence, support and devotion," adds co-founder Don Mayer. "We all understand that behind each order, there is emotion attached, and we recognize the importance of a quality product and on time delivery, as well as a supreme customer service experience."