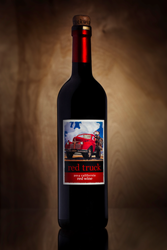 Modesto, California (PRWEB) October 05, 2016
Bronco Wine Company today announced that wines under its Red Truck® brand will feature the innovative Helix packaging, the world's first cork stopper and glass bottle with easy-to-open and reclose technology. Helix was developed by Amorim and O-I, the world leaders in cork and glass packaging. Bronco's Red Truck® will be the first US wine to bring this innovation to American wine consumers.
The new twist-to-open concept combines an ergonomically-designed stopper made from cork and a glass bottle with an internal thread in the neck, creating a high performing and sophisticated wine packaging solution. Helix combines all the benefits of cork and glass – quality, sustainability and premium image – with user-friendly, twist open, re-sealable convenience. The result of a collaborative R&D effort between Amorim and O-I, the development of Helix drew on both companies' innovation capabilities and expertise in serving global wine markets.
Commenting on this launch, Fred Franzia, Bronco's CEO, noted that, "Wine consumers in America have a growing understanding of the role quality cork and quality wine play in delivering their wine in a sustainable but yet premium format. At Bronco, we have been doing exactly that for many years, but with Helix and Red Truck®, the U.S. market will now have access to all that plus the convenience of an easy-opening and easy-to-reclose bottle. We are proud at Bronco to be the first winery in America to deliver this incredible innovation."
For Antonio Amorim, the President and CEO of Amorim Cork, "Fred Franzia has been an innovator for decades now and Bronco's leadership is again on display with Red Truck®, bringing U.S. consumers the most sustainable, technologically-advanced wine packaging innovation this side of the 21st century. Knowing Fred's unique understanding of consumers' preferences, we are certain that other wines using Helix will follow, enlarging Bronco's offering of convenient yet 100% sustainable glass and cork packaging."
According to Sergio Galindo, president of O-I North America, "Wine and quality glass packaging are intrinsically connected. As world leaders in our fields, O-I and Amorim understand our role in delivering what winemakers, wine retailers and wine consumers want. Helix and Red Truck® bring to the U.S. a user-friendly, natural and sustainable packaging solution that offers consumers a new wine drinking experience."
For many consumers, the ritual of uncorking the bottle, and the satisfying "pop" as the cork is released, are central to the wine occasion and an intrinsic part of the DNA of wine – borne out by the billions of corks and glass bottles used worldwide each year. Thanks to Helix, for the very first time consumers can enjoy this classic ritual, including the associated "pop," without the need for a corkscrew in an easy-to-open and easy-to-reclose package.
About Bronco
Founded in 1973 by Fred T., Joseph S. and John Franzia, Bronco Wine Company is a family-owned winery, the fifth largest winery and is the largest vineyard owner in the United States. Bronco Wine Company's diverse family of brands is sold in over 90 countries in addition to being distributed throughout the US. Our quest for quality begins with the vineyard and continues to grow into areas such as premium bulk wine production, R&D, brand development and brand marketing, and national distribution. Bronco Wine Company is vertically integrated, from the vineyard to the table, focusing on crafting wines for the American table.
About Amorim
The world's largest manufacturer of cork stoppers, Amorim has over 140 years' experience of serving wine producers. Based in Portugal – the largest cork oak forest area in the world – the company supplies 4.2 billion cork stoppers to more than 15,000 customers across 82 countries, through a network of fully-owned subsidiaries in every wine market around the world. Amorim's wide range of natural and technical stoppers is continually evolving, driven by the company's extensive R&D process. For more information, visit: http://www.amorimcork.com
About O-I
Owens-Illinois, Inc. is the world's largest glass container manufacturer and preferred partner for many of the world's leading food and beverage brands. The Company had revenues of $6.2 billion in 2015 and employs 27,000 people at 80 plants in 23 countries. With global headquarters in Perrysburg, Ohio, O-I delivers safe, sustainable, pure, iconic, brand-building glass packaging to a growing global marketplace. For more information, visit o-i.com.