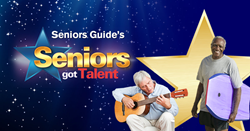 I would donate all the proceeds to Volunteers in Medicine of Southern Nevada, which provides health care to children who have no insurance
Richmond, Virginia (PRWEB) October 07, 2016
The lucky winners of SENIORS GOT TALENT, a digital talent competition hosted by Seniors Guide, will receive an award of $1,000, $500 or $250 for their talents in January. While some of the contestants may spend their prize money on a vacation or a new dance costume, one contestant has a more benevolent goal for that check.
"I would donate all the proceeds to Volunteers in Medicine of Southern Nevada, which provides health care to children who have no insurance," says the 55-year-old pediatrician, who volunteers with the organization. She has spread the word through Facebook, Twitter and word of mouth to rack up votes.
Open to anyone age 55 and over, the competition has showcased a wide variety of talents and hobbies in the senior community, ranging from dancing to doing pushups, over its six-year history. Last year's third-place winners, Seniors Gone Wild from Carmel, IN, performed the Sprinkler, the "Gangnam-Style" horse dance and a host of other moves—all from their chairs—to The Commodores' hit "Brick House." They were "mighty mighty" indeed!
"Seniors participate in the competition for many reasons," according to Katharine Ross, vice president of Seniors Guide magazine. "It can be a great excuse to ramp up their fitness routines, encourage camaraderie at a retirement community or in this case, give back to the community."
Video entries are posted on http://www.seniorsguideonline.com, where supporters can place one vote per day for their favorite videos (with a valid email address). Voting ends on December 31. Seniors Guide will announce the winners in January.
Visit http://www.seniorsguideonline.com/seniors-got-talent-contest-rules-regulations for contest rules.
Seniors Guide, a Richmond, Va. -based company, publishes Seniors Guide magazines throughout Cincinnati, Ohio; Columbus, Ohio; Dayton, Ohio; Indianapolis, Indiana; Raleigh-Durham, North Carolina; Richmond, Virginia; and Roanoke-Lynchburg, Virginia and features a correlating website of SeniorsGuideOnline.com. Seniors Guide's mission is to help seniors and their families find the information they need on options available in senior housing, senior care, assisted living, independent senior living, retirement communities and other retirement living needs. Seniors Guide also has resources at http://www.HomeCareChoice.com for Cincinnati, Ohio; Columbus, Ohio; Dayton, Ohio; Raleigh-Durham, North Carolina; and Richmond, VA. Ross Publishing, Seniors Guide's parent company, began in 1991 and has been publishing helpful, free publications and websites ever since. In addition to the many Seniors Guide titles, the team at Ross Publishing is behind lifestyle magazine BOOMER and real estate publication Apartment Navigator.