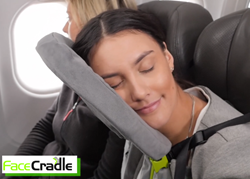 FaceCradle is designed to be more like the way we actually sleep, which is in a horizontal position, and airline travelers who want to get sleep while in economy class see the FaceCradle as the perfect solution.
Melbourne, Australia (PRWEB) October 04, 2016
Raising more than $1.1 million USD ($1.479,231 AUD) from nearly 20,000 backers on Kickstarter to make it the most-funded travel pillow in the website's history, crowdfunding for the record-breaking FaceCradle Travel Pillow will continue on the company's website.
FaceCradle has become a global phenomenon. While more than 8,000 crowdfunding backers were from the United States, FaceCradle received worldwide support from backers in Canada, the UK, Germany, Singapore, Brazil, France, New Zealand, the Netherlands and many other countries, including of course, the founders' native country of Australia.
"We are incredibly grateful for the support we received from backers around world, it's been nothing less than phenomenal," said FaceCradle co-founder David Scrimshaw. "One of the main reasons it was a success is that it solves a very real problem for people who have to fly a lot in the economy section, whether for work or leisure. The FaceCradle is designed to be more like the way we actually sleep, which is in a horizontal position, and is unlike the thousands of travel pillows on the market today. The travelers see the FaceCradle as the perfect solution to that problem."
Developed by Scrimshaw along with company co-founder Roz Ruwhiu as a result of their own experiences trying to get sleep on long, cross-country and overseas flights, the FaceCradle features five sleep modes for travelers that provide multiple options for comfort – including a deep-sleep mode that simulates the natural horizontal sleeping position for the head, even while the traveler is seated in a vertical, economy-class seat.
FaceCradle has an innovative internal support frame that's hinged and splits into two sections – allowing travelers to lock the angle of five different pillow-settings to support their neck, head and chest. By attaching a harness support and anchoring it around the winged headrest on their seatback, it can be adjusted to several different configurations that enable 180-degree use so the traveler can find their most comfortable position.
As shown in this viral Facebook video, FaceCradle's comfort positions can conform to nearly any kind of seating situation aboard a plane, bus, train or even in a car. As the video shows, the most common method of using FaceCradle is to loop its strap under and out over the top of the wings of the seat's headrest – which means the strap will not interfere with any video screen that could be on the back of the passenger's seat.
To pre-order or find out more about this record-breaking travel pillow, visit http://www.facecradle.me.
Hairy Turtle Pty Ltd.
Hairy Turtle Pty Ltd. was founded in 2015 by two seasoned Australian Entrepreneurs, David Scrimshaw and Roz Ruwhiu. Scrimshaw, the founder of Australia's most innovative company (awarded by Thompson Reuters) and the founder of market-leading Power Tool Brand, Ozito, has designed, developed and marketed more than 30 consumer products globally. Ruwhiu is a Head of TV Production for a leading advertising agency behind several award-winning commercials for some of the most famous brands. The two combined their experiences to create FaceCradle, designed to help travelers get a good night's sleep. For more information, visit the company's website.