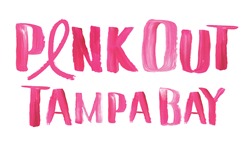 The American College of Radiology (ACR) and the Society of Breast Imaging (SBI) recommend women begin annual Screening Mammography at age 40 to obtain the maximum life-saving benefits
Tampa, FL (PRWEB) October 03, 2016
Florida Hospital is encouraging the Tampa Bay area to efficiently get screened for breast cancer by launching "PINK OUT Tampa Bay", a movement to help raise awareness and promote an accessible way to schedule mammograms online.
Breast cancer is one of the most commonly diagnosed cancers in the United States and the second most prominent in women in the USA, according to the American Cancer Society. Florida Hospital recognizes the importance of early detection and this is one of the reasons they have established a convenient platform for the community to get screened.
"Breast Cancer currently affects one in eight women during their lifetime, with the greatest incidence occurring between the ages of 40 - 45. The American College of Radiology (ACR) and the Society of Breast Imaging (SBI) recommend women begin annual Screening Mammography at age 40 to obtain the maximum life-saving benefits. The Florida Hospital Breast Centers offer Screening Mammography, with some of our Centers providing 3D Tomosynthesis technology. In addition, diagnostic breast services, which include Diagnostic Mammography, Breast Ultrasound, Breast MRI, and Image-Guided Core Biopsies, are also offered to women with breast issues, dense breast tissue, and personal or family risk factors. It is important for women to discuss these guidelines and their breast history with their physician to determine a personalized screening plan," said Denise Smith, AS, RT(R)(M), Clinical Manager, Florida Hospital Tampa Breast Care Center.
Florida Hospital invites the Tampa Bay area to utilize their new and convenient online resource to better assist in making an appointment. Web scheduling allows patients to schedule mammogram screenings virtually anytime and anywhere. It only takes a few minutes to schedule and will ensure a shorter wait time then those without an appointment.
Florida Hospital has five convenient locations throughout the Tampa Bay area which are available for scheduling offering online appointments for mammogram screenings and they are as follows:

Florida Hospital Tampa
Florida Hospital Carrollwood
Florida Hospital Wesley Chapel
Florida Hospital North Pinellas
Florida Hospital Zephyrhills
To schedule your appointment, call (813) 615-7795 or visit http://www.pinkouttampabay.com. Once there, choose a facility, select mammogram screening and follow the scheduling prompts. After scheduling an appointment, you'll receive an appointment confirmation and exam preparation instructions, it's that simple.
In 2016, an estimated 246,660 new cases of invasive breast cancer are expected to be diagnosed in women in the United States, according to the American Cancer Society. The Susan G. Komen Foundation has reported death rates from breast cancer have been declining since about 1990, with larger decreases in women younger than 50. These decreases are believed to be the result of earlier detection through screening and increased awareness, as well as improved treatment. To be proactive with your health, schedule your next mammogram at Florida Hospital using the new online scheduling system.
About Florida Hospital West Florida Region
The Florida Hospital West Florida Region is a not‐for‐profit 1,275‐bed hospital system composed of Florida Hospital Tampa/Pepin Heart Institute, Florida Hospital Carrollwood, Florida Hospital at Connerton Long Term Acute Care, Florida Hospital North Pinellas, Florida Hospital Wesley Chapel, Florida Hospital Zephyrhills, Florida Hospital Heartland Medical Center Sebring, Florida Hospital Heartland Medical Center Lake Placid and Florida Hospital Wauchula. Part of the Adventist Health System, Florida Hospital is a leading health network comprised of 26 hospitals throughout the state. For more information, visit FloridaHospital.com.