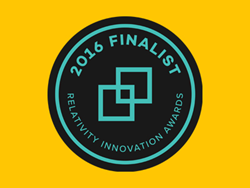 "The power of CDS Visual Search is twofold: it's fast and it doesn't require complex reviewer intervention," - Garrett Bendel, Chief Operating Officer of CDS
New York, NY (PRWEB) October 03, 2016
Complete Discovery Source (CDS) announced today that their Visual Search tool has been named a finalist for the Relativity Innovation Awards at Relativity Fest for Best Service Provider Solution.
CDS Visual Search leverages Relativity Data Grid and Elastic to display automatically generated, real-time topical clusters of documents related to search terms. The application can be used to quickly test keyword search terms to determine relevancy and accuracy, gain an understanding of document sets, and decide if an Assisted Review workflow is best for the case.
"The power of CDS Visual Search is twofold: it's fast and it doesn't require complex reviewer intervention," said Garrett Bendel, Chief Operating Officer of CDS. "It adds to Relativity's existing data visualization capabilities and significantly speeds the e-discovery process."
kCura, developers of the e-discovery software Relativity, will recognize finalists and announce winners during a special ceremony at Relativity Fest, the annual e-discovery conference that will be held October 9-11 in Chicago. This year, Relativity Fest brings more than 1,800 attendees from around the world together for a three-day event featuring engaging panel discussions, hands-on labs, breakout sessions, and insights from both kCura staff and Relativity end users.
The Relativity Innovation Awards is an annual competition celebrating organizations that use Relativity in creative ways, solving difficult or unique challenges within and outside of e-discovery. Judges selected solutions that use various application integration points to display an extensive use of Relativity's APIs to streamline processes, solve complex workflow needs, and create an altogether new solution that positively impacts business strategy. The Relativity community also has a chance to vote for their favorite finalists' innovation for the Community Choice Solution.
"While reviewing entries for this year's awards, our judges focused on solutions that extend Relativity to solve clients' most pressing challenges," said Perry Marchant, vice president of engineering at kCura. "In e-discovery, tight deadlines are an everyday reality. CDS Visual Search leverages Relativity Data Grid and Elastic to help reviewers understand their data faster by providing reviewers with a quick way to test keyword search terms for relevancy and accuracy."
About Complete Discovery Source
Complete Discovery Source (CDS) is a leading eDiscovery company, providing litigation technology and hosting, advisory services, and managed services to support complex discovery matters. CDS is the first choice of the Am Law 100 and Fortune 500 and is recognized as Best in End-to-End eDiscovery by the National Law Journal and New York Law Journal. With a team of seasoned legal experts and technicians, CDS uses advanced, tested, and defensible services and software to support all stages and types of eDiscovery. CDS is an Orange-Level Best-in-Service Relativity® Provider and provides one of the largest and highest volume footprints delivering that platform. CDS is headquartered in New York with regional offices in Chicago and Washington DC. The company maintains highly secure ISO 27001 certified hosting and SSAE 16 Type 2 audited data centers in the US and Europe. Complete Discovery Source's web site is http://www.cdslegal.com.
About kCura
Recognized as a "Leader" in Gartner's latest E-Discovery Magic Quadrant, kCura are the developers of the e-discovery software Relativity. Relativity has more than 140,000 active users in more than 40 countries from organizations including the U.S. Department of Justice and more than 195 of the Am Law 200. kCura helps corporations, law firms, and government agencies meet e-discovery challenges by installing Relativity on-premises and providing hosted, on-demand solutions through a global network of partners. kCura has been ranked the 175th fastest-growing technology company in North America on Deloitte's Technology Fast 500 and named one of Chicago's Top Workplaces by the Chicago Tribune. Please contact kCura at sales(at) kcura (dot) com or visit http://www.kcura.com for more information.
CDS Press Contact
David Uy
(202) 552-1689
duy(at)cdslegal.com
kCura Press Contact
Mike Gilhooly
(312) 216-5951
mgilhooly(at)kcura.com