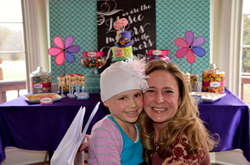 (PRWEB) October 03, 2016
A national non-profit is creating a lot of smiles with the help of caring local bakeries all over the country. The organization, Icing Smiles, provides beautiful custom cakes and other treats for critically ill children and their families. It is through the generosity and time of these bakers (known as Sugar Angels by Icing Smiles) that over 11,500 cakes have been delivered to sick children around the country, providing happy memories and a bit of normalcy in a time of great stress.
Recently the Baltimore Ravens Cheerleaders adopted Icing Smiles as one of their charities of choice, and the first event will take place on October 4, 2016 at 7:00 p.m. at the Ravens Training Facility in Owings Mills, MD where the Ravens Cheerleaders will welcome Charlotte and her family for a tour, special gifts and a surprise cake presentation. Charlotte, 9 years old, suffers from tracheomalacia, lung damage and chronic lung disease. Meeting the Ravens Cheerleaders is truly a dream come true for Charlotte and her family.
The partnership between Icing Smiles and the Baltimore Ravens Cheerleaders marks an exciting time of growth for Icing Smiles. Delivering their first cake in 2010 to Violet, a beautiful 6-year-old battling brain cancer, Icing Smiles has since provided cakes to thousands of children across the country. "We understand that the simple things, like a birthday cake, are luxuries to a family battling illness," said Tracy Quisenberry, founder and Executive Director for Icing Smiles. "What we provide is so much more than cake. We serve up a reason to smile." Icing smiles, with the help of their amazing network of more than 8,400 specialty cake bakers, delivers an average of 230 children each month.
Quisenberry knows including the Baltimore Ravens Cheerleaders in the delivery of Charlotte's special cake is not only special for Charlotte, but also for the Baltimore community. "We are thrilled to partner with the Ravens Cheerleaders. Calling Baltimore home base is special to us, and increasing awareness at home through the Ravens organization is an incredible opportunity."
For more information about attending the Icing Smiles/Baltimore Ravens Cheerleader event, please contact events(at)icingsmiles(dot)org. To learn more about Icing Smiles, please visit http://www.icingsmiles.org or http://www.facebook.com/icingsmiles.