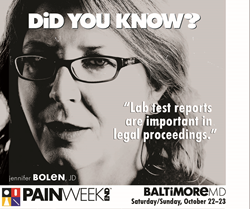 Pain management education is key!
Montclair, NJ (PRWEB) October 05, 2016
Following the success of the annual PAINWeek National Conference, the 2016 PAINWeekEnd (PWE) Regional Conference series continues this fall on October 22 and 23 at the Baltimore Convention Center at 1 W. Pratt Street. The two-day program will provide busy clinicians and allied healthcare practitioners with 12.0 hours of relevant, practical instruction in the management of chronic pain.
Just days ago, it was reported that among Marylanders 55 and older, opioid overdose deaths are up 130%. Older age leads to more pain, prescription painkillers, and abuse potential. Pain management education is key! Attend PAINWeekEnd Baltimore.
The Maryland Board of Physicians requires 50 hour of CME every 2 years for relicensing. By attending PAINWeekEnd Baltimore, participants can receive 12.0 CE/CME credit hours as they enhance their skills in medication risk evaluation and mitigation, pain assessment and diagnosis, and delivery of individualized multimodal treatment. Course topics include chronic pain assessment; when acute pain becomes chronic; the five coping skills every chronic pain patient needs; assessing and managing acute and chronic low back pain; creating a treatment plan for higher risk patients; complex regional pain syndromes; and courses entitled, "Ain't Misbehavin': Decreasing and Managing Medication Aberrant Behavior"; "Get Your Specimens in Order: The Impact of Changes to the Clinical Laboratory Fee Schedule and Payor Policies on Medical Record Documentation"; and "Embrace 2016 Practice Changes and Patient Education: Overview of Critical Pain Management Practice Issues." In addition, there will be commercially supported activities addressing a range of product, disease state, and medical information topics.
To see the complete agenda and more information about this or other PAINWeekEnd Regional Conference, go to painweekend.org.
The online registration fee for this PAINWeekEnd Conference is $199. PAINWeekEnd registrants are further offered the opportunity to register for the 2017 PAINWeek National Conference, September 4-8, in Las Vegas, for $129 off the current online published price.
PAINWeekEnd is provided by Global Education Group.