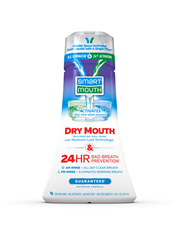 SmartMouth Dry Mouth Formula packs a one-two punch that gives dieters the peace of mind to not worry about bad breath.
Saint Louis (PRWEB) October 10, 2016
The fat burning process of ketosis, inherent in LCHP and LCHF diets, produces ketones, such as acetone, that have a strong smell and are expelled in urine and breath. This is known as keto- or ketosis-breath. Ketosis also causes dehydration, which in turn produces dry mouth that results in bad breath. The Moisture-Lock Technology found in SmartMouth's new Dry Mouth Formula Oral Rinse stops dry mouth while also providing clean, fresh breath all day long.
"Dry mouth is a common side effect of the LCHP and LCHF diets, and if you have dry mouth, you have bad breath — they go hand-in-hand," says Andrew Burch, CEO and President of Triumph Pharmaceuticals. "SmartMouth's new scientific Dry Mouth Formula not only keeps your mouth moisturized, but it also stops bad breath and prevents it from coming back. It packs a one-two punch that gives dieters the peace of mind to not worry about bad breath."
Bad breath, or halitosis, originates when naturally occurring germs in the mouth consume protein, and in the process produce foul-smelling sulfur gas. High protein diets by definition introduce more protein into the mouth, which then results in bad breath as germs break down and devour protein and release sulfur gas. SmartMouth Dry Mouth Oral Rinse blocks this process and stops bad breath, while also soothing and moisturizing the mouth. Upon activation, it releases zinc ions that neutralize sulfur gas and prevents it from returning for 12 hours. Used in the morning and at night, SmartMouth Dry Mouth Oral Rinse provides clean, fresh breath for a full 24 hours.
"Typical mouthwash, mints and gum only temporarily mask bad breath, and don't address dry mouth," says Burch. "The patented two-solution activated technology found in all of our oral rinses is scientifically proven to both eliminate existing gases that cause bad breath and prevent bad breath gas production long term. So whether you consume normal or high amounts of protein, SmartMouth Oral Rinses soothe your mouth and also block germs from consuming protein and producing bad breath for 12 hours with each rinse. Typical mouthwash, gum and mints just can't do that."
Like the new Dry Mouth Formula, SmartMouth's two other formulas, Original Activated and Clinical (Gum & Plaque), are free of alcohol and other drying agents often found in typical mouthwashes. SmartMouth products are available at Walmart, Walgreens, Target, CVS and most drugstores and supermarkets. Consumers can visit SmartMouth.com to print an in-store introductory coupon to save $4 on the new Dry Mouth Formula or to find more information.
About Triumph Pharmaceuticals
Triumph Pharmaceuticals, Inc., manufactures and markets SmartMouth premium branded oral rinses, toothpaste and mints through national retailers and online. Headquartered in St. Louis, Missouri, Triumph Pharmaceuticals and its SmartMouth brand have specialized in bad breath prevention since 1993.