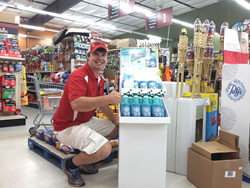 The opportunity to partner with Hardware Hank and United Hardware has been significant for our company, and we are very thankful for the chance to help promote both Hardware Hank stores and our product," -Samuel K. Burlum, CEO and President
Horicon, Wisconsin (PRWEB) October 06, 2016
The Extreme Energy Solutions Extreme Kleaner Sales and Promotions Team have been racking up thousands of drive miles throughout the Mid-West. They have been delivering the message of how important it is to support your local family-owned business while introducing new environmentally sustainable products that are made in the USA.
The 2016 Extreme Kleaner Tour of Stores is well underway. Extreme Kleaner representatives are making stops in Wisconsin, Minnesota, North Dakota, South Dakota, Montana, Wyoming, Colorado, Iowa, Nebraska, Kansas, Oklahoma, and Illinois before making brief appearances in Oregon and then heading back to the East Coast. In total, almost 50 stores in over ten states will get a personal visit from the Extreme Kleaner team.
"The Purpose of the 2016 Tour of Stores is to promote awareness to local partnered retailers, their audiences, clients, and fan base of the importance of supporting local merchants, which are the pillar of America's economic driving force," commented Barry Smith, one of Extreme Kleaner's representatives participating in visiting the list of hosting stores. "Without small businesses, local jobs would not be made available to every Main Street corner," he added.
"We are also very privileged to have an opportunity to partner with these stores in offering our products through these local venues; it has been a pleasant surprise that these stores have been giving us such a warm welcome," Smith continued.
The 2016 Tour of Stores is to last a period of around 60 days before the Extreme Kleaner Team returns to begin the next nationwide promotions campaign. Most of these stops are focused on a number of selected Hardware Hanks to play host to the Extreme Kleaner Team stops.
Each Hardware Hank, and affiliated brands of Trustworthy and Golden Rule Hardware Stores, is independently owned and under contract to receive their inventory from United Hardware, which supports the Hardware Hank and affiliated brands. Extreme Kleaner was introduced to Hardware Hank store owners at the June 2016 United Hardware Buying Market event, held in Minneapolis, Minnesota.
Extreme Kleaner is a non-toxic biodegradable cleaner-degreaser manufactured in the United States, which originates from the Garden State of New Jersey, where it is manufactured and packaged for consumers around the nation. Extreme Kleaner was first offered through online stores. In 2013, local retailers began to offer the green cleaner in the Northeast. By the end of 2015, Extreme Kleaner was made available in other hardware chains, auto parts stores, and food stores coast to coast. 2016 brought many new opportunities for the product to be made available to more consumers, including the launch of Extreme Kleaner in both a number of co-ops and larger big box retailers.
A portion of every sale of Extreme Kleaner is dedicated toward assisting a local and/or regional cause. Former causes which received the benefit of this initiative includes Project Help, a cause aimed at helping Veteran Homelessness; STEM Education, the performing arts, and educational non-profit forums for environmental and economic sustainability. The product's parent company, Extreme Energy Solutions has also helped sponsor many causes and events from local 5K runs to race car drivers to veterans causes.
Extreme Kleaner is the proud sponsor of the #92 Sportsman Modified racecar driven by Tommy Vigh Jr. The cleaner has also made inroads with the greater racing community in Northern New Jersey and New York, where several racing teams utilize the biodegradable cleaner to deal with caked on dirt and grime after a long night at the racetrack.
"The opportunity to partner with Hardware Hank and United Hardware has been significant for our Company, and we are very thankful for the chance to help promote both Hardware Hank stores and our product," provided Samuel K. Burlum, CEO and President of Extreme Energy Solutions, parent company of the Extreme Kleaner product.
"We have been very fortunate for the warm reception and assistance from the Corporate Staff of United Hardware as they have been willing to give our product and company a try. We thank them for the chance to work with them," Burlum finished.
Extreme Kleaner has launched its new website, http://www.ExtremeKleaner.com which provides all of the locations of the partnered retailers which now offer this product.