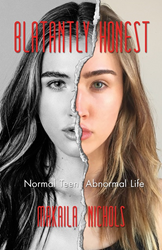 I wanted to turn my experiences and difficulties into a platform that could truly reach and help others my age.
Dallas, Texas (PRWEB) October 03, 2016
Eighteen-year-old Windermere, Fla., resident Makaila Nichols was bullied as a young teen. Now, as an aspiring model, actress, and author, she writes about her experiences in Blatlantly Honest (Brown Books Publishing Group), which tops Amazon's New Release list in both Teen & Young Adult Social Issues AND Parenting Teenagers categories.
Makaila has been named the National Ambassador for The Great American NO BULL Challenge (http://www.nobull.org), a nationwide effort to raise awareness of bullying. Her book's national release today coincides with October being National Bullying Prevention Month.
"I've been bullied for as long as I can remember," Nichols says. "Whether it was because of my glasses, braces, weight, height, or merely jealousy, bullying has never left me. When I started modeling and had to lose weight, I had food thrown on me, and kids would make fun of my weight and call me disgusting…even some of my own teachers. I am still a victim, but I have gained the confidence to stand up for myself. "
Everyone has their idea of the hardest job in the world --- policeman, firefighter, coal miner, the list is long. And, somewhere on that list has to be the job of being a teenager. The social, educational, and performance pressures put on teens are enormous. Nichols knows firsthand about the hardships and anxiety of such stress associated with growing up in today's world.
"I've become more honest, and I no longer sugar coat anything," Nichols says emphatically. "Perhaps I grew up too quickly, but it's hard for me to grow 'back down', so to speak, although often I wish I could. Ultimately, I think my experience in a high-profile industry (modeling) and my life choices have made me stronger and more confident."
Nichols started her modeling career at age fourteen when she was discovered by a modeling scout at an Orlando, FL, mall. Since then, she has juggled school, modeling, a budding acting career, and now, her new-found passion for writing. She accomplishes all this while traveling between New York and Los Angeles for work, and then home to Florida for school and family.
In Blatantly Honest, Nichols offers a fresh and honest perspective to the stresses she and other teens face every day. Her beauty and steadfastness sometimes mask the scars of insecurity and doubt she battles, much of which stem from years of bullying.
"I wanted to turn my experiences and difficulties into a platform that could truly reach and help others my age," Nichols said. "I hope the book sparks real conversation. Teenagers should talk about their problems to others and be able to make a change in their life."
Readers of Blatantly Honest will turn pages with encouragement and trust in finding words of support from Makaila for the very challenges they are facing from someone their age that has experienced those same challenges.
"I've needed and searched for advice I could trust on relationships, sex, bullying, and all the challenges people my age face every single day," Nichols says. "But, every book I've ever come across was tough for me to relate to. So, I wrote Blatantly Honest, to share my story and give readers and friends empathy, guidance, and understanding from someone their age."
For more information, please visit http://www.makailanichols.com.
Media contact: Brian Briscoe, 972.248.9500, Brian(dot)Briscoe(at)TheAgencyatBB(dot)com.
About Brown Books Publishing Group (BBPG)
Brown Christian Press is a division of Brown Books Publishing Group. Founded in 1994 as an Entrepreneurial Publisher for Entrepreneurial Authors®, Brown Books Publishing Group was established to fill a need in the publishing world by allowing authors to have a voice in the publishing process while retaining the rights to their intellectual property. Applying this innovative Relationship Publishing™ model, Brown Books has cultivated a prestigious stable of authors, from New York Times bestsellers to Pulitzer Prize winners and more. Boasting hundreds of high-quality books across genres, Brown Books is a fiercely independent publisher that encourages author empowerment. In 1994, Brown Books ushered in A New Era in Publishing™, and more than two decades later, continues to be a successful innovative leader in the publishing industry. For more information, please visit http://www.BrownBooks.com.
About The Agency at Brown Books (ABB)
As a subsidiary of Brown Books Publishing Group, The Agency at Brown Books is backed by more than 20 years of publishing excellence, leveraged in the first full-service public relations, marketing, branding and distribution provider within a publishing house. The Agency provides high-level public relations, marketing and distribution services for not only Brown Books authors, but also non-affiliated authors, all within the same house. For more information, please visit http://www.TheAgencyatBB.com.