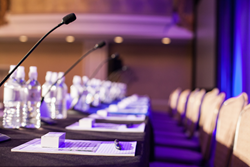 New York, NY (PRWEB) October 04, 2016
Perrin Conferences' Food & Beverage Litigation Conference: A Look at Hospitality, Liquor and Food Liability will be held on October 18, 2016 at the New York Athletic Club. This prestigious annual conference assembles leaders in U.S. food, beverage and hospitality litigation, including many prominent plaintiff and defense attorneys, in-house counsel and insurance professionals.
The conference chairs are Faith R. Greenfield, Esq., Vice President - Legal, Campbell Soup Company, Ronald J. Levine, Esq., Herrick, Feinstein LLP, Jan E. Simonsen, Esq., Carr Maloney P.C., and Gabriel S. Slominski, Esq., Director of Primary Claims, Crum & Forster. Working as a team with Perrin Conferences, their respective insights into varying aspects of the litigation have proved invaluable during the process of assembling a cohesive and dynamic agenda covering the food, beverage and hospitality industries.
Joining the top attorneys involved in the litigation, the conference will provide an opportunity to hear from and meet with in-house counsel and insurance professionals such as:
Chris Ballantyne, Vice President, Primary Claims, Crum & Forster
V.P. dePillis, Assistant General Counsel, Legal Department, Aramark
Hih Song Kim, Senior Vice President, General Counsel, Stoli Group
Justin Mervis, Vice President and General Counsel, KIND
Jade Cobb Murray, Assistant General Counsel, Snyder's-Lance, Inc.
Uche Ndumele, Vice President and Associate General Counsel, Pinnacle Foods
Sarah J. Nichols, Senior Vice President, Wholesale E&S, Crum & Forster
Meredith Olearchik, Vice President and Associate General Counsel Intellectual Property/Marketing/Food Law, Campbell Soup Company
Isha Saini, Regulatory Compliance Manager, Danone Legal Department North America, The Dannon Company
Stacey Werner Shapiro, Senior Legal Advisor, Choice Hotels International
Thomas R. Stanton, Assistant General Counsel, Sodexo, Inc.
Lauren Ware, Director of Legal, Litigation, Landry's Inc.
Perrin Conferences has added a unique spin on this annual conference by expanding its scope to address issues presented across the entire range of manufacturers, establishments and retailers. The one-day, neutral forum consists of numerous panel presentations offering outlooks and updates regarding topics such as:
Recent Developments in Food Class Action Litigation
Overview of Current FDA Policy and Proposed Federal Legislation
The Recent & Future Trends for Food & Distilled Beverage Manufacturers
Cause & Effect: The Ties of Underwriting Claims in the Hospitality Industry
Information Governance Compliance for Food & Beverage Companies
Dram Shop State Survey
The In-House Counsel Perspective
Ethical Challenges with Carrier-Insured Tri-Partite Relationship
In addition to providing exclusive opportunities for learning, networking, and information sharing, this conference offers Continuing Legal Education (CLE) Credit, including one hour of ethics credits. For more information regarding registration and hotel accommodations, please visit http://www.PerrinConferences.com.
***
About Perrin Conferences
As the leading national provider of joint plaintiff/defendant litigation conferences, Perrin Conferences offers comprehensive and specialized continuing legal education (CE/CLE) in an atmosphere of learning, networking and sharing. The company's conferences attract influential leaders and foremost talent in the legal industry to discuss current topics in litigation through mock trials, presentations and webinars, setting the standard in professional litigation education and networking.