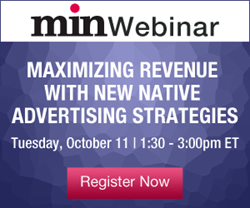 New York, NY (PRWEB) October 04, 2016
On the afternoon of Tuesday, October 11 from 1:30 – 3:00pm ET, min will bring together three expert speakers from the magazine-media industry to discuss current native advertising strategies and best practices among publishers at a webinar titled, "Maximizing Revenue with New Native Advertising Strategies." The webinar comes at a pertinent time when experts predict that native advertising will drive 74% of all advertising revenue by 2021.
SPEAKERS INCLUDE:
-Adam Ochman, Executive Director of Branded Content, Time Inc.
-Jim Lehnhoff, VP of Brand Strategy & Services, Slate Custom
-Kate Appleton, Branded Content Director, AFAR Media
The webinar's agenda is set to cover topics including: how to package and price native content, how to deliver custom solutions to partners, how to leverage social media during a native ad campaign and how to utilize programmatic ad technology to deliver scale. To view the full agenda, visit: http://www.minonline.com/webinars/maximizing-revenue-with-new-native-advertising-strategies.
Participants of min's webinar will be able to engage with the speakers during a live Q+A portion after each presentation. Furthermore, webinar registration enables access to the webinar from five different logins, meaning that sales teams are encouraged to attend together.
For questions about the webinar or registration, please contact Zoe Silverman at zsilverman(at)accessintel(dot)com.
About min:
min is the industry's trusted source on the consumer and b2b magazine business, reaching thousands of media executives through print, online and in-person events. For more than 60 years, min has been serving the magazine and media community with unparalleled coverage of this ever-changing industry. For more information, visit http://www.minonline.com.