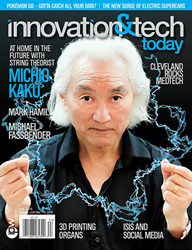 (PRWEB) October 06, 2016
Innovation & Tech Today continues to support the marriage of science and technology by making important subjects accessible to readers everywhere.
In this fall issue, Michio Kaku discusses the home of the future; Dr. Anthony Atala shows us how 3D printing organs is possible; Mark Hamill from Star Wars chats about motion capture and his role in a new video game; Michael Fassbender reveals what it's like to star in the new film Assassin's Creed, and "The Martian" author Andy Weir gives us insight into the future of Mars colonization. The issue also highlights Cleveland's emerging med tech scene, while "Jobs of the Future, Jobs of Today" kicks off a two part series discussing coding and cyber security jobs.
"Some might say this is our best issue yet, and we are very grateful to have renowned physicist Michio Kaku for our cover," said Charles Warner, Editor-in-Chief.
To celebrate the fall issue, I&T Today is also launching a social media campaign + giveaway. Like the magazine's page on Facebook, Follow on Twitter, or subscribe to show your enthusiasm for Innovation & Tech Today and be entered to win 1 of 5 Venstar smart thermostats, 1 of 5 MyQ LiftMaster Smart Garage Openers, and 1 RIVA Turbo X. Giveaway ends Oct. 30th.
Innovation & Tech Today's fall issue will go on sale at every Barnes & Noble and Micro Center in North America and select retailers and newsstands October 4, 2016 with a cover price of $9.99. It is also available on every major digital platform including Magzter, ZInio, Apple Newsstand and the Amazon Kindle.