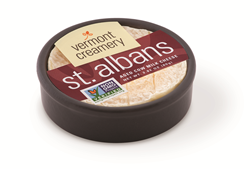 With the release of this cheese, Vermont Creamery is modeling the transition of Vermont dairy farms to non-GMO feed. - Allison Hooper
Websterville, Vermont (PRWEB) October 04, 2016
Continuing a tradition of excellence and innovation in artisan cheesemaking, Vermont Creamery announces the retail launch of their newest aged cheese, St. Albans.
Available now at Whole Foods, Wegman's and a host of specialty food retailers and grocery stores, St. Albans is made with 100 percent cows' milk and is verified by the Non-GMO Project, North America's only third-party verification for non-GMO food and products.
"St. Albans represents Vermont Creamery's progress over the last thirty-two years; what began with a desire to bring a cheese to the shelves of American grocery stores grew into our company's efforts to gain our first non-GMO verification," said Co-Founder Allison Hooper. "With the release of this cheese, Vermont Creamery is modeling the transition of Vermont dairy farms to non-GMO feed." 
Taking its name from the town of St. Albans, Vermont, the cheese recalls Vermont Creamery's longstanding partnership with St. Albans Cooperative — a group of over 300 dairy farmers and the longtime producers of our high-quality cows' milk. In partnership with Vermont Creamery, the St. Albans Co-op selected Paul-Lin Dairy in Bakersfield, VT as the proving ground for producing non-GMO milk.
"We are delighted to partner with Vermont Creamery on this project," said Leon Berthiaume, CEO of the St. Albans Cooperative. "Both the Cooperative and Vermont Creamery's reputations for providing high-quality dairy products are well known, and St. Albans becoming available to consumers nationally will enhance both of these great brands."
St. Albans begins with fresh, pasteurized Vermont milk sourced from the Paul-Lin Dairy, run by multi-generational farmers, the Stanley family. At optimal maturity, the delicate cheese disks are gently placed in sturdy ceramic crocks and wrapped in a breathable perforated film. Even after packaging, the living cultures continue to develop the rind and paste of the cheese.
The interior of the cheese becomes soft and spreadable, while the flavor becomes more robust. Protection during the long journey from Vermont, the ceramic crock also serves as the perfect baking vessel, allowing the cheese to be warmed in the oven before serving with rustic bread.
For more information about St. Albans or to locate a retailer near you, visit http://www.vermontcreamery.com. For media requests, contact Kara Herlihy, kherlihy@vermontcreamery.com.
About Vermont Creamery
Combining the European tradition of cheesemaking with Vermont's terroir, Vermont Creamery's line of fresh and aged goat cheeses, cultured butter, and crème fraîche have won over 100 national and international awards. In their 32nd year of business, Vermont Creamery supports a network of more than 15 family farms, promoting sustainable agriculture in the region. B Corp Certified in 2014, Vermont Creamery is the founder of Ayers Brook Goat Dairy, the country's first demonstration goat dairy. For more information, visit http://www.vermontcreamery.com.
About the Non-GMO Project
The Non-GMO Project is a non-profit multi-stakeholder collaboration committed to preserving and building sources of non-GMO products, educating consumers, and providing verified non-GMO choices. Find out more at http://www.nongmoproject.org/ and at http://www.facebook.com/nongmoproject