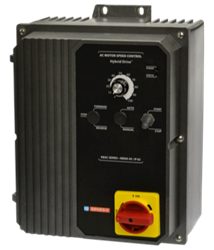 This new model series of KBAC drives, in addition to a full line of accessories, will meet demanding customer requirements and be a great addition to our product line.
Coral Springs, Florida (PRWEB) October 04, 2016
KB Electronics, Inc., a manufacturer of AC and DC Drives, is proud to introduce the newest members of its popular line of Hybrid Drives: Models KBAC-217 (5 HP) and KBAC-416 (10 HP).
Hybrid Technology - By definition, a hybrid is the merging of two technologies. These drives combine the digital technology of the microprocessor with an easy to use analog interface. Simple trimpot adjustments and selectable jumpers are used instead of complicated programming. You will be up and running in less than 10 minutes.
Applications – These new inverter products meet a broad spectrum of customer requirements. Conveyor systems, food and beverage systems, industrial fans and pumps will utilize the KBAC technology. The simple and robust design can be specified in retail, factory floor or harsh outdoor environments.
Safe and Secure - Built with all environmental considerations and the latest product safety in mind, these NEMA 4X / IP65 drives are housed in our newly designed heavy-duty die-cast aluminum package "C" enclosures. In addition, S-suffix models (e.g. KBAC-217S) contain a state of the art mechanical interlock on/off switch equipped with a safety lockout feature that can be used with a padlock, which prevents the drive from being turned on while the related equipment is being serviced.
An AC Line filter, which is available for all models, provides Class "A" RFI (EMI) suppression and complies with CE Council Directive 89/336/EEC Industrial Standard. Add suffix "F" to any drive model.
"We are pleased to expand our product line of motor controls up to 10 HP," says Thomas Dalton, VP GM, KB Electronics, Inc. "This new model series of KBAC drives, in addition to a full line of accessories, will meet demanding customer requirements and be a great addition to our product line."
About KB Electronics, Inc. - Since 1967, KB Electronics, Inc. has dedicated itself to manufacturing the best AC drives and DC drives. KB designs and builds, in the United States, over 200 motor speed control models to serve the fractional to 10 horsepower market. KB's distribution includes over 800 distributor locations in over 30 countries. The Company prides itself in being able to provide customization to any of their motor drive products, thereby allowing their customers to purchase a product specific to their application. For more information on KB Electronics, Inc. visit our website at http://www.kbelectronics.com